GCT100 2023 Winners: Governance
Legal, regulated cannabis requires rules. The Governance category of the GCT100 list shines a spotlight on the people who are either moving the dial on cannabis policy or enforcing the regulations that policy creates. Of course, some of the names on this list will surely raise the hackles of members of the cannabis industry—what we want and what powerful regulators and policymakers want will never align perfectly, especially in a world still largely mired in prohibition.
See all of the GCT100 nominees for Governance.
---
Policy Winners
Cory Booker
Senator (D-NJ)
Washington, D.C., United States
FOLLOWERS
IG: 1M
T: 199.6K
LI: 188.5K
FB: 1M
INFLUENCER SCORE
RECOGNITION: 680.0
VOTING: 100.0
SOCIAL: 300.0
TOTAL: 1080.0
ALSO INFLUENTIAL IN…
Legalization & Clemency
Cory Booker may have caused whiplash in some observers of his positions on cannabis legalization and reform. In 2019, the New Jersey senator sponsored the Marijuana Justice Act, which would legalize cannabis in the U.S. on the federal level, defund some law enforcement in problem jurisdictions, and increase funding to communities affected by the War on Drugs. But in 2021, Booker joined Sen. Chuck Shumer (D-NY) in blocking marijuana banking reform—only to flip again in late 2022 to back the SAFE Banking Act with the addition of pathways to expunging marijuana felony records.
---
Karl Lauterbach
Minister of Health, Germany
Berlin, Germany
FOLLOWERS
IG: 352K
T: 1M
FB: 117K
INFLUENCER SCORE
RECOGNITION: 690.0
VOTING: 80.0
SOCIAL: 300.0
TOTAL: 1070.0
ALSO INFLUENTIAL IN…
Regulation
Karl Lauterbach is a German scientist, physician and politician who has served as federal Minister of Health since December 2021. In October 2022, Lauterbach presented planned legislation (approved by Chancellor Olaf Scholz) to regulate the controlled distribution and consumption of cannabis for recreational purposes among adults. The pilot phase for legalization is reportedly planned for a four-year period and could involve home cultivation and private cannabis clubs in the European Union's biggest national market.
Advertisement
---
Nancy Mace
U.S. Representative (R-SC)
Washington, D.C., United States
FOLLOWERS
IG: 29K
T: 96.7K
LI: 8.1K
FB: 64K
INFLUENCER SCORE
RECOGNITION: 680.0
VOTING: 110.0
SOCIAL: 197.8
TOTAL: 987.8
ALSO INFLUENTIAL IN…
Legalization & Clemency
Nancy Mace has emerged as the most vocal proponent for federal legalization of cannabis among elected Republican officials. Mace introduced legislation to remove cannabis from the Controlled Substances list in 2021 and believes that cannabis reform would bring numerous benefits to her home state of South Carolina and the nation. She has argued in the U.S. House of Representatives that legalization would create jobs, generate tax revenue and help to reduce crime. She also believes that it would help to address the racial disparities in the criminal justice system.
MORE ABOUT NANCY…
"Ending the criminalization of cannabis is long overdue and we thank Rep. Mace for her leadership on this issue."
— AFP-SC Director Candace Carroll
---
Anutin Charnvirakul
Deputy PM &
Health Minister, Thailand
Bangkok, Thailand
FOLLOWERS
IG: 5.1K
FB: 59.7K
INFLUENCER SCORE
RECOGNITION: 640.0
VOTING: 120.0
SOCIAL: 64.8
TOTAL: 824.8
ALSO INFLUENTIAL IN…
Regulation
Anutin Charnvirakul, leader of the Bhumjaithai Party and a long-time advocate of medical marijuana, was instrumental in executing the 2022 decriminalization of cannabis in Thailand, the first country in Asia to do so. In office since 2019, Anutin last year launched a program to give 1 million free cannabis plants to Thai households for license-free cultivation and says he hopes the Thai cannabis industry will generate billions of dollars in income by boosting agriculture, manufacturing and other commercial activity in the Kingdom.
---
Regulation Winners
Joe Biden
President of the United States
Washington, D.C., United States
Advertisement
FOLLOWERS
IG: 17.6M
T: 36.9M
LI: 20.3K
FB: 11M
INFLUENCER SCORE
RECOGNITION: 480.0
VOTING: 40.0
SOCIAL: 300.0
TOTAL: 820.0
ALSO INFLUENTIAL IN…
Policy
Placing Joe Biden on this list is not without controversy. In 2022, he issued a mass pardon for people with non-violent federal cannabis possession convictions and signed the Marijuana and Cannabidiol Research Expansion Act into law. But he has also resisted calls to legalize THC+ cannabis at the federal level, whether through executive order or legislation—a disappointing adherence to the status quo instead of lifting prohibition.
MORE ABOUT JOE…
"Joe Biden, like any American politician with decades of service on record, has a checkered history with cannabis policy. Biden, with nearly all of Congress in 1990s, helped create some of the harshest laws entrapping cannabis consumers in a system of police, courts, jails, probation and permanent records. .. [But] President Biden made a series of welcome announcements about cannabis policy last October. One of the most widely applauded among them was his decision to provide mass pardons to those thousands of Americans with a federal conviction for marijuana possession."
— Chris Goldstein, NORML
---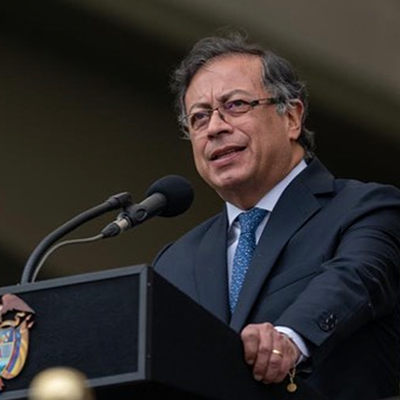 Gustavo Petro
President of Colombia
Bogotá, Colombia
FOLLOWERS
IG: 1.8M
T: 6.6M
FB: 2.6M
INFLUENCER SCORE
RECOGNITION: 250.0
VOTING: 70.0
SOCIAL: 300.0
TOTAL: 620.0
ALSO INFLUENTIAL IN…
Policy
Former guerilla fighter Gustavo Francisco Petro Urrego was elected in 2022 on a promise of agrarian reform that would combat "narco-feudalism" with legal cannabis cultivation, among other measures. His unique plan would allow farmers to grow cannabis without any licensing requirements in hopes that Colombia can become a competitive country in the international export market. Petro's Health & Social Protection Minister Carolina Corcho oversees Colombia's new policy of requiring health insurers to cover medical marijuana prescriptions from doctors.
---
Nicole Elliott
Director
California Dept. of Cannabis Control
Sacramento, CA, United States
FOLLOWERS
T: 2.3K
LI: 1.3K
FB: 15K
INFLUENCER SCORE
RECOGNITION: 450.0
VOTING: 120.0
SOCIAL: 18.6
TOTAL: 588.6
Nicole Elliott has been the top regulator in the biggest cannabis market in the United States since 2021. She has advised California Gov. Gavin Newsom to ease regulatory and tax burdens that make it tough for licensed operators in her state to compete against a reinvigorated illicit cannabis market. Prior to her appointment as DCC director, she served as the Governor's Senior Advisor on Cannabis at the Governor's Office of Business and Economic Development beginning in 2019.
Advertisement
MORE ABOUT NICOLE…
"As an operator, [Nicole Elliott's] team has been delightful to work with."
— SPARC dispensary owner Erich Pearson, in an interview with the Bay Area Reporter
SPONSORED VIDEO
Cannaconvo with Peter Su of Green Check Verified
Cannabis Last Week with Jon Purow interviews Peter Su of Green Check Verified. Peter Su is a Senior Vice President with Green Check Verified, the top cannabis banking compliance software/consultancy in the space. A 20+ year veteran of the banking industry, Peter serves on the Banking & Financial Services committee of the National Cannabis Industry Association. He chairs the Banking and Financial Services Committee for the NYCCIA & HVCIA. He is an official member of the Rolling Stone Cannabis Culture Council. And, he is on the board of the Asian Cannabis Roundtable, serving as treasurer.