Zap! Feast Your Eyes on 12 Rare, Original R. Crumb Dope Comix
A dozen drawings created by the iconic underground cartoonist to illustrate Michael Stepanian's 1972 legal guide 'Pot Shots' are online for the very first time.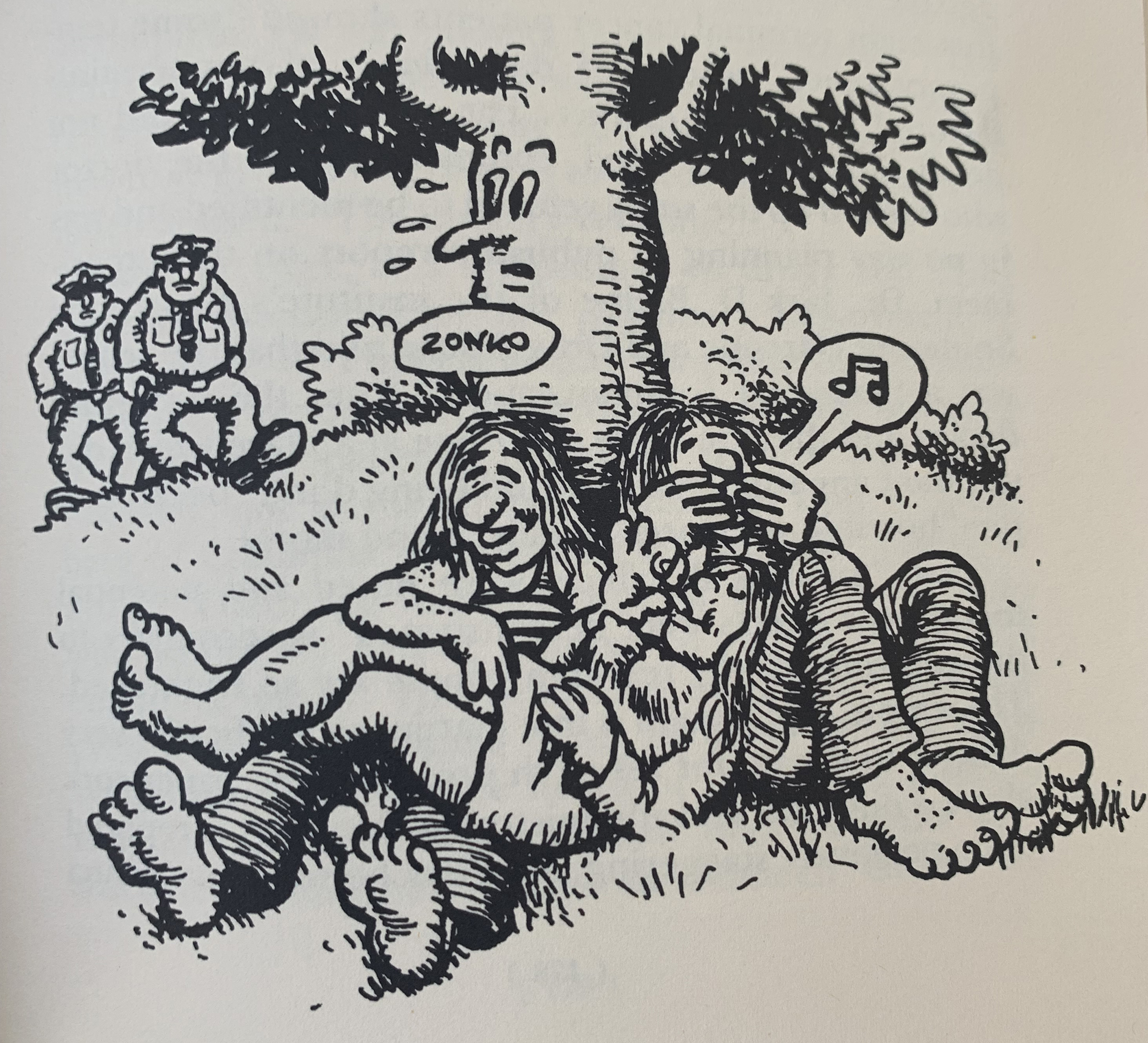 Pioneering dope lawyer Michael Stepanian published Pot Shots back in 1972, when getting hassled by the cops for cannabis was the ugly side of the Flower Power era ushered in by the rebellious kids of the 1960s. Stepanian's guide taught young people how to avoid run-ins with law enforcement over dope and how to navigate the legal system if they did get busted. Pot Shots also featured original drawings by the prolific alternative cartoonist Robert Crumb, aka R. Crumb, perhaps the most famous artist of the underground comix scene that emerged in the 1960s and 70s.
Crumb began his professional artistic career in the early 60s as an illustrator of novelty greeting cards for American Greetings of Cleveland, OH, the world's second-largest maker of greeting cards after Hallmark. He also briefly worked for Topps drawing racy, cheesecake-lite bubblegum cards that featured an early version of his favored zaftig female forms. Struggling financially and newly married, Crumb sought to publish his own cartoons in various humor magazines but didn't find any takers until 1965, when the short-lived satire zine Help! ran a few of his early strips.
He finally had some professional success with his Fritz the Cat character, which appeared in men's magazine Cavalier in the mid-60s. It was around this time that Crumb dropped acid for the first time, divorced his wife and flung himself fully into producing the trippy, psychedelic cartoons and art for which he is best known.
Crumb's huge library of work includes his own iconic cartoons, comic strips and characters like "Keep on Truckin'", Mr. Natural and Fritz the Cat, published in titles like Zap Comix and Weirdo. He has also often illustrated others' work, perhaps most famously American Splendor by the late Harvey Pekar, whom Crumb knew from his early days in Cleveland.
The R. Crumb illustrations in this gallery appear in the pages of Pot Shots and have not been republished elsewhere. Global Cannabis Times is proud to present these rare and original drawings to readers.
Advertisement
SPONSORED VIDEO
Cannaconvo with Peter Su of Green Check Verified
Cannabis Last Week with Jon Purow interviews Peter Su of Green Check Verified. Peter Su is a Senior Vice President with Green Check Verified, the top cannabis banking compliance software/consultancy in the space. A 20+ year veteran of the banking industry, Peter serves on the Banking & Financial Services committee of the National Cannabis Industry Association. He chairs the Banking and Financial Services Committee for the NYCCIA & HVCIA. He is an official member of the Rolling Stone Cannabis Culture Council. And, he is on the board of the Asian Cannabis Roundtable, serving as treasurer.