Russian Court Rejects Brittney Griner's Appeal, Upholds 9-Year Prison Sentence
White House calls the ruling a "sham" and the Phoenix Mercury basketball star's sentence "excessive and disproportionate."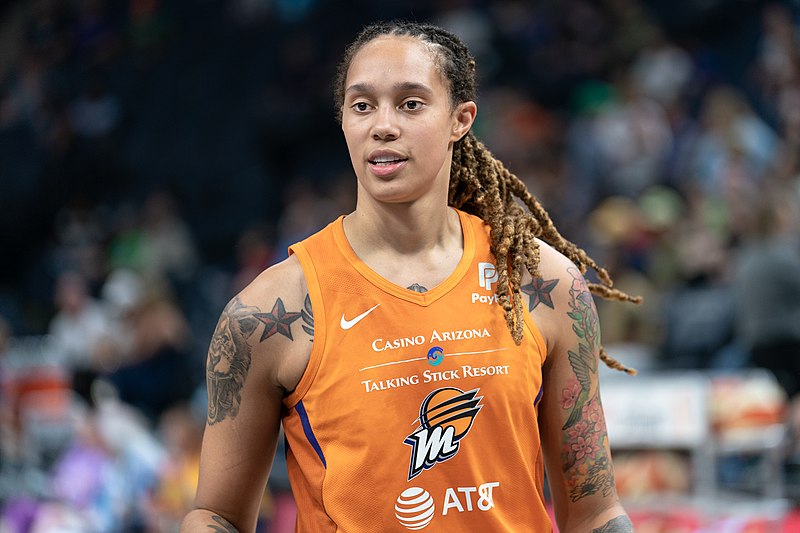 Three Russian judges on Tuesday dashed hopes for WNBA-star Brittney Griner's release, rejecting her appeal and upholding her 9-year sentence for narcotics smuggling. The Phoenix Mercury player's legal team was seeking her acquittal, calling the ruling handed down by a court on Aug. 5 wrong in determining Griner had shown criminal intent and her lengthy sentence inappropriate.
Griner, 32, has been imprisoned since February following her arrest at Sheremetyevo International Airport in Moscow on charges of narcotics smuggling. Griner was detained after Russian authorities found her two vape cartridges containing less than one gram of cannabis oil in her possession.
Griner's lawyer, Alexander Boykov, condemned court's rejection of the appeal, saying, "No judge, hand on heart, will honestly say that Griner's nine-year sentence is in line with Russian criminal law," reports the BBC.
The White House called the ruling a "sham" and the sentence "excessive and disproportionate." President Joe Biden reiterated that U.S. is still in "constant contact" with Russia seeking Griner's release. "So far, we have not been meeting with much positive response, but we're not stopping," Biden said on Tuesday.
The Kremlin responded the next day saying talks would remain open, but insisting that any negotiations in the high-profile case must be kept strictly confidential, according to ABC News. A potential prisoner swap for her release has been previously reported.
Griner to be transferred to a Russian penal colony
Appearing via video from her detention center, Griner again apologized to the court for her "honest mistake."  In July, she pleaded guilty of possessing cannabis, but denying criminal intent in a plea for leniency. She had testified she mistakenly left the vapes in her luggage while hurriedly packing to play basketball in Russia during her off-season.
Advertisement
"I really hope that the court will adjust this sentence because it has been very, very stressful and very traumatic," the two-time Olympic gold medal winner told the court on Tuesday. "People with more severe crimes have gotten less than what I was given."
To serve out her 9-year sentence, Griner is slated to be moved to a Russian penal colony, the modern-day equivalent of the forced labor camps once part of the notorious Soviet gulag system. Today, the penal colonies remain labor camps equally recognized for their cruel treatment of prisoners and brutal conditions.
"Conditions in prisons and detention centers varied but were often harsh and life threatening," a 2021 State Department report stated. "Overcrowding, abuse by guards and inmates, limited access to health care, food shortages, and inadequate sanitation were common in prisons, penal colonies, and other detention facilities."
"We do not have time," Griner's agent, Lindsay Colas, said in a released statement. "At any moment something might happen, and we must remain focused and unified in our call to return [Griner] to her family immediately."
SPONSORED VIDEO
Cannaconvo with Peter Su of Green Check Verified
Cannabis Last Week with Jon Purow interviews Peter Su of Green Check Verified. Peter Su is a Senior Vice President with Green Check Verified, the top cannabis banking compliance software/consultancy in the space. A 20+ year veteran of the banking industry, Peter serves on the Banking & Financial Services committee of the National Cannabis Industry Association. He chairs the Banking and Financial Services Committee for the NYCCIA & HVCIA. He is an official member of the Rolling Stone Cannabis Culture Council. And, he is on the board of the Asian Cannabis Roundtable, serving as treasurer.