Brittney Griner sentenced by Russia to 9 years in Prison for Smuggling Cannabis Oil
WNBA Basketball star handed down near maximum sentence; Russia signals willingness to consider prisoner swap a day after conviction.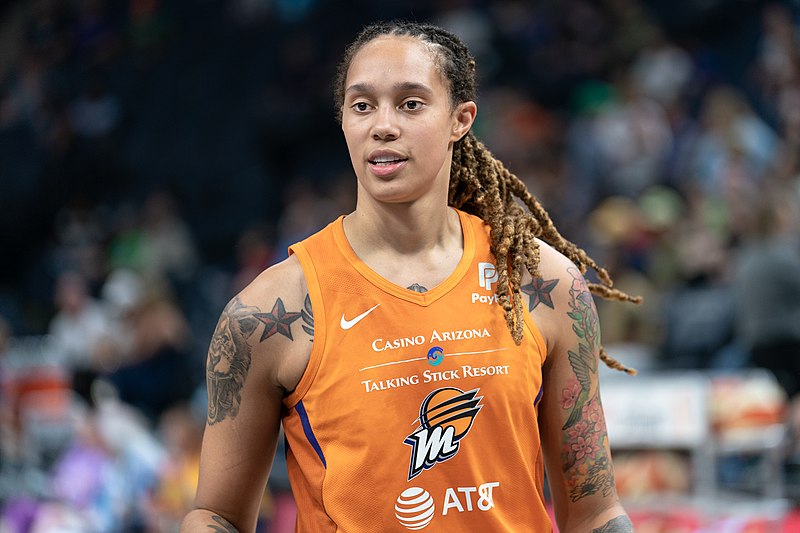 For carrying less than a gram of cannabis oil in vapes into Russia, WNBA Phoenix Mercury star Brittney Griner was sentenced Thursday to 9 years in Russian prison. The maximum sentence she faced for drug-smuggling was ten years. Griner's Russian lawyers called the verdict "absolutely unreasonable" and will appeal the decision which they say "contradicts the existing legal practice" in Russia.
"We are very disappointed by the verdict. As legal professionals, we believe that the court should be fair to everyone regardless of nationality," they said in a statement.
Her lawyers contend the court ignored the facts presented in Griner's defense, including mishandled evidence, being forced to sign untranslated documents and disregarding Griner's guilty plea in hope for leniency when handing down the lengthy sentence. Her lawyers noted the sentence exceeds the average of five years in jail for this type of crime.
During Griner's guilty plea in July, the two-time Olympic basketball gold medalist told the court in Khimki, Russia that she accidently placed the vape cartridges into her luggage while packing in a hurry.  Griner sought to make clear there was "no intent" behind her actions. Griner's lawyers had argued her drug screenings by Russian authorities came back negative and also produced Griner's prescription for medical cannabis for pain.
After the sentence was handed down, Lindsay Kagawa Colas, Griner's agent, tweeted, "Today's sentencing of Brittney Griner was severe by Russian legal standards and goes to prove what we have known all along, that Brittney is being used as a political pawn."
"I want to apologize to my teammates, my club, my fans and the city of (Yekaterinburg) for my mistake that I made and the embarrassment that I brought on them," she said at her sentencing. "I want to also apologize to my parents, my siblings, the Phoenix Mercury organization back at home, the amazing women of the WNBA and my amazing spouse back at home."
Advertisement
Griner has been imprisoned since February on charges she carried a "significant amount" of cannabis oil vapes in her luggage, which turned out to be less than a single gram. Griner was returning to Russia to play with the Russian basketball team she plays with during her off-season in the U.S.  Her arrest coming just a week after Russia invaded the Ukraine, the timing has her many supporters fearing Russian authorities see Griner as a potential political pawn.
Conviction could lead to prisoner exchange
The sentencing, however, could serve as the first step to a possible prisoner exchange with Russia to free Griner. Maria Yarmush, a lawyer specializing in international civil affairs, told Kremlin-funded TV Channel RT that a prisoner exchange first required Griner to be convicted and sentenced before applying for a presidential pardon which would allow a swap.
The day after her sentencing, Russia's foreign minister Sergey Lavrov signaled that the Kremlin is "ready to discuss this topic, but within the framework of the channel that has been agreed by the presidents," state news agency RIA Novosti reported.
CNN reported in June that U.S. government in June had proposed a deal to exchange Russian arms dealer Viktor Bout for Griner's freedom. The offer, which also seeks the release of Paul Wheelan, a Canadian security executive with American citizenship accused by Russia of spying, was confirmed by Secretary of State Antony J. Blinken.
A trade for the "Merchant of Death"
Bout, a former Soviet military translator, is known as the "Merchant of Death" for allegedly using his air transport companies to smuggle weapons to Africa and the Middle East. Bout is serving a serving a 25-year federal prison sentence for conspiring to sell weapons to the Revolutionary Armed Forces of Colombia for use against U.S. forces in Colombia. The Kremlin has demanded his release for years, reported the New York Times.
Blinken told the New York Times the U,S. and Russia had "communicated repeatedly and directly" about an exchange to release Griner and free Wheelan, who is currently jailed in Russia on what the U.S. government says are fabricated espionage charges. The State Department has classified both Griner and Wheelan as "wrongfully detained" and elevated their cases to The Office of the Special Presidential Envoy for Hostage Affairs, which coordinates overseas hostage-related matters.
Advertisement
President Joe Biden on Thursday issued a statement calling Griner's  sentence "unacceptable" and demanded her return.
"Today, American citizen Brittney Griner received a prison sentence that is one more reminder of what the world already knew: Russia is wrongfully detaining Brittney. It's unacceptable, and I call on Russia to release her immediately so she can be with her wife, loved ones, friends, and teammates," Biden said in a statement.
SPONSORED VIDEO
Cannaconvo with Peter Su of Green Check Verified
Cannabis Last Week with Jon Purow interviews Peter Su of Green Check Verified. Peter Su is a Senior Vice President with Green Check Verified, the top cannabis banking compliance software/consultancy in the space. A 20+ year veteran of the banking industry, Peter serves on the Banking & Financial Services committee of the National Cannabis Industry Association. He chairs the Banking and Financial Services Committee for the NYCCIA & HVCIA. He is an official member of the Rolling Stone Cannabis Culture Council. And, he is on the board of the Asian Cannabis Roundtable, serving as treasurer.