WNBA player Brittney Griner Pleads Guilty to Russian Cannabis Charges
In a hope for leniency, star athlete admits to accidentally carrying cannabis oil while traveling to Russia.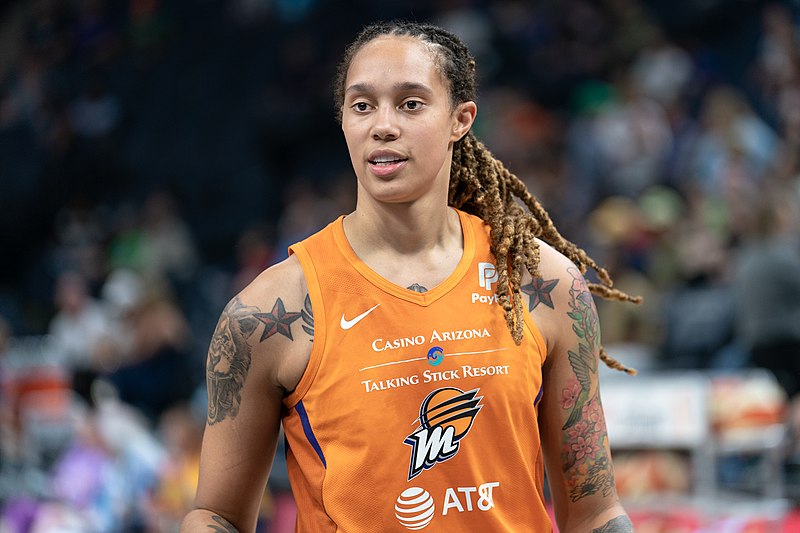 Nearly five months after her arrest, WNBA player Brittney Griner pleaded guilty today to carrying cannabis oil while traveling through Moscow's Sheremetyevo airport.  For the first time, Griner told a court in Khimki, Russia her account of the alleged event, stating she "accidently" placed the vape cartridges into her luggage while hurriedly packing.  Griner has been imprisoned in Russia since February facing charges she carried a "significant amount" of cannabis oil vapes in her luggage.
At her trial on Thursday, Griner sought to make clear there was "no intent" behind her actions — an effort, her lawyers said, to seek leniency in her potential sentencing. Griner could face up to 10 years in prison on the serious charge of narcotics smuggling.
"Taking into account all the circumstances of the case, taking into account the personality of our client, we believe that the guilty plea should be taken into account," Griner's lawyer Maria Blagovolina told CNN, adding Griner is a "role model for many people."
According to the BBC, Griner, 31, appearing again in handcuffs, told the court, "I'd like to plead guilty, your honour. But there was no intent. I didn't want to break the law." The trial was then adjourned for a week to give Griner time to prepare her testimony.
President promises swift action
Griner was returning to Russia just a week after Russia invaded the Ukraine. The timing of her arrest has her many supporters fearing Russian authorities see Griner as a potential political pawn. U.S. President Joe Biden has spoken with Griner's wife, Cherelle, and issued a White House statement that he is working to see  "Brittney's release as soon as possible."  The statement followed a letter sent to the President by Griner, pleading for his help.
However grim the prospect of Griner's sentencing after her guilty plea, it could open the door to a similar prisoner exchange. In April, U.S. Marine veteran Trevor Reed was exchanged for Konstantin Yaroshenko, a Russian citizen serving 20 years in U.S. prison for planning to smuggle than $100 million worth of cocaine into the U.S. However, any swap would first require Griner to first be convicted and sentenced, then apply for a presidential pardon, according Maria Yarmush, a lawyer specializing in international civil affairs, told Kremlin-funded TV Channel RT.
Advertisement
Alexander Boykov, Griner's other lawyer, noted after Thursday's hearing that drug screenings of Griner by Russian authorities came back negative. "She was clean, and she was tested,"
With Blagovolina adding Griner is a "role model for many people."
SPONSORED VIDEO
Cannaconvo with Peter Su of Green Check Verified
Cannabis Last Week with Jon Purow interviews Peter Su of Green Check Verified. Peter Su is a Senior Vice President with Green Check Verified, the top cannabis banking compliance software/consultancy in the space. A 20+ year veteran of the banking industry, Peter serves on the Banking & Financial Services committee of the National Cannabis Industry Association. He chairs the Banking and Financial Services Committee for the NYCCIA & HVCIA. He is an official member of the Rolling Stone Cannabis Culture Council. And, he is on the board of the Asian Cannabis Roundtable, serving as treasurer.