Industry Leaders to Convene for 16th Benzinga Cannabis Capital Conference
Power-networking event returns to Miami Beach, offering insider insights into business, finance, branding and cannabis retail.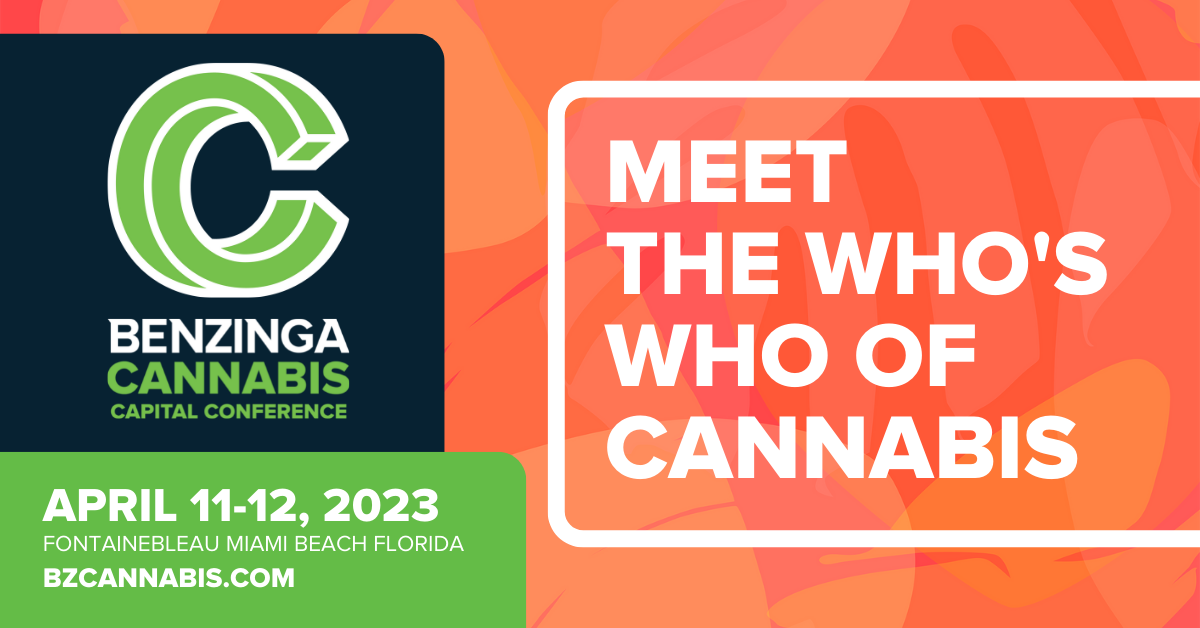 The world's largest gathering of high-impact decision-makers, founders and investors in cannabis is returning to Miami Beach, FL in 2023 for the 16th edition of the Benzinga Cannabis Capital Conference. The event hosted by Detroit-headquartered Benzinga, a media and data technology company offering news and market intelligence to empower investors, will take place at the Fontainebleau Miami Beach Hotel, April 11-12.
The event, expected to draw 3,000 attendees, connects companies with the key players driving the cannabis industry forward. For aspiring cannabis entrepreneurs, the conference will show how to survive and thrive as a business through techniques like identifying and tapping into market trends. Companies, by networking with attending CEOs and top decision makers, can find investors, strike deals and secure future partnerships. For investors, the two-track, two-day conference introduces them to potential stars for their portfolios.
"Cannabis businesses have closed deals in aggregate north of $1.5-$2 billion at our prior events. And get ready, the 2023 conference will be even larger with a record level of investment capital and top-notch operators," says Benzinga Founder, Jason Raznick.
The conference will feature keynotes, panel discussions, fireside chats, networking spaces and an exhibit floor, as well as investor and celebrity appearances.
Some noteworthy speakers include:
Mike Gorenstein, Cronos Group
Miguel Martin, Aurora
Tim Seymour, Amplify Seymour Cannabis ETF (CNBS)
Emily Paxhia, Poseidon Investment Management
Gina Collins, Trulieve
Tiffany Richardson, Crowe
Gary Santo, Tilt Holdings
Drew Matthews, Greenlife Business
James Yi, Leaf Trade
Jared Maloof, Standard Wellness
Kim Rael, Azuca
Margot Micallef, GABY
Ryan Hamlin, POSaBIT
Stacey Hronowsk, Canix
See a full list of speakers here. To register the conference, visit here.
Advertisement
SPONSORED VIDEO
Cannaconvo with Peter Su of Green Check Verified
Cannabis Last Week with Jon Purow interviews Peter Su of Green Check Verified. Peter Su is a Senior Vice President with Green Check Verified, the top cannabis banking compliance software/consultancy in the space. A 20+ year veteran of the banking industry, Peter serves on the Banking & Financial Services committee of the National Cannabis Industry Association. He chairs the Banking and Financial Services Committee for the NYCCIA & HVCIA. He is an official member of the Rolling Stone Cannabis Culture Council. And, he is on the board of the Asian Cannabis Roundtable, serving as treasurer.