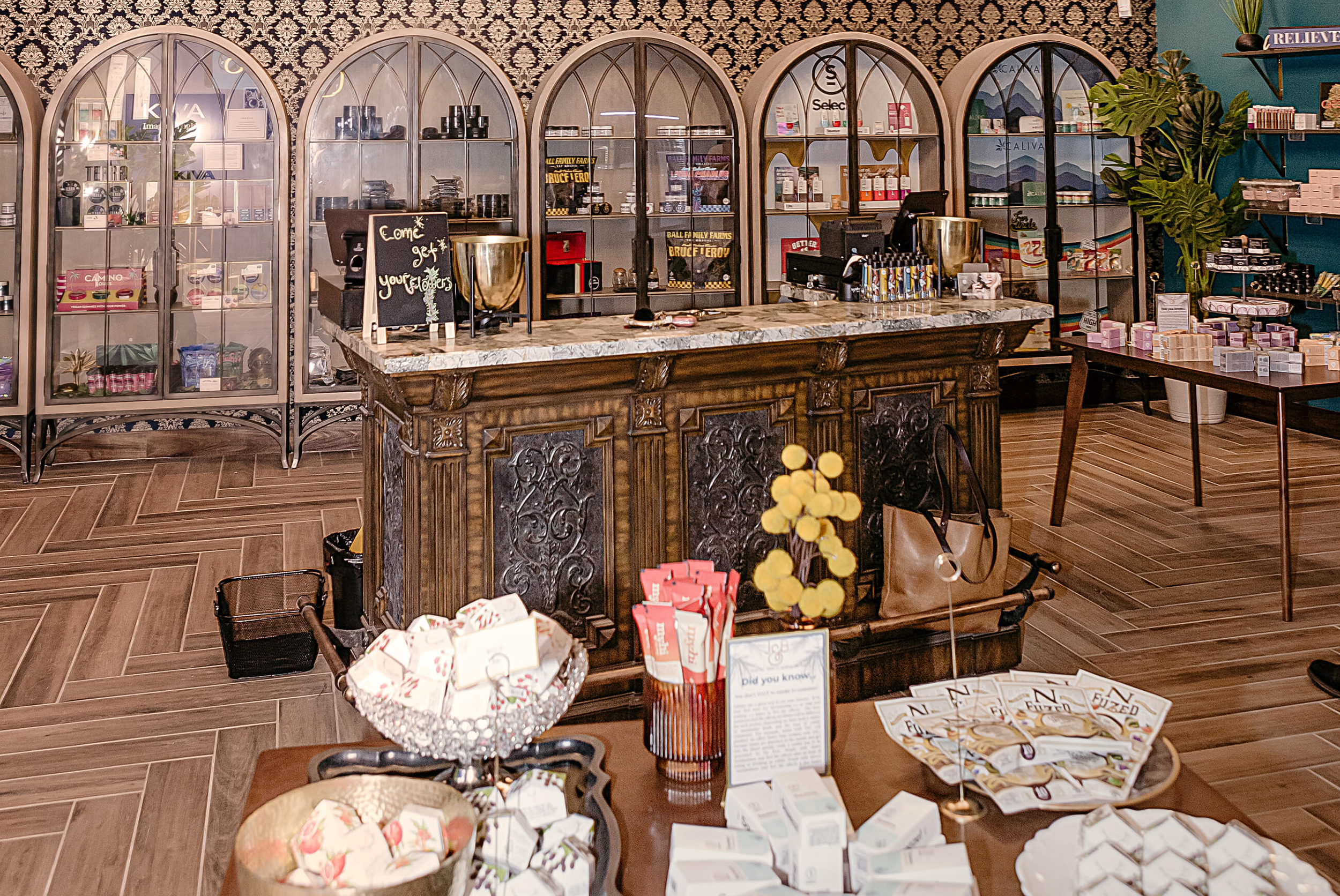 New Jack Tea Pad
In the heart of South Central LA, this WOC-run dispensary is a safe space to soak in Jazz Age healing vibes.
Josephine & Billie's,
Los Angeles, CA
FOUNDED: 2021; DESIGNER: Ejma Planning + Development; EMPLOYEES: 10; AREA: 1,500 sq. feet; TOP BRANDS: Agua de Flor, Kiva Confections, Ball Family Farms, Leune, CANN, Monogram; ONLINE PRESENCE: 8 5-Star Google reviews, 7,769 Instagram followers
---
THERE IS SOMETHING truly special about a shopping experience built just for you— especially when the marketplace has limited options that cater to you and folks like you. Women of color (WOC) are responsible for driving over $1 trillion in spending power in the United States. Yet they are broadly under-served and under-targeted in the market as consumers.
Partners Whitney Beatty and Ebony Andersen intimately understand this gap in supply and demand. The partners recently launched Josephine & Billie's (J&B's) on Martin Luther King Jr. Blvd. in historic South Central LA in Los Angeles, CA. Named in homage of Jazz Age icons Josephine Baker and Billie Holiday, J&B's is billed as "[t]he nation's first dispensary designed by and for women of color."
Advertisement
Beatty, J&B's CEO, and Andersen, the COO, opened the boutique retail space to the public in October 2021. The pair spent years of research and planning before opening their doors, sourcing products created and sold by WOC to fill out J&B's store shelves and display cases.
The dispensary places a special emphasis on POC-owned, women-owned and LGBTQ-owned brands like Ball Family Farms, Leune and California Rolls. J&B's also stocks cannabis products from Cann, Kiva Confections, Monogram and Select.
J&B's is the first new venture with backing from leading cannabis investor The Parent Company's social equity ventures fund. The Parent Company, based in San Jose, CA, recently launched its $10 million fund run by Shawn "Jay-Z" Carter and Desiree Perez. The fund "seeks to discover the industry's future entrepreneurs of color, offering them the capital and mentorship necessary to build generational wealth as part of a more equitable and diverse cannabis industry."
Body and Soul……….Billie Holiday
He's Funny That Way……….Billie Holiday
If The Moon Turns Green……….Billie Holiday
Strange Fruit……….Billie Holiday
La Vie En Rose……….Josephine Baker
Doudou……….Josephine Baker
Confessin'
(That I Love You)……….Josephine Baker
Night and Day……….Josephine Baker
Jack, I'm Mellow……….Trixie Smith
The Stuff Is Here……….Georgia White
Wacky Dust……….Ella Fitzgerald w/Chick Webb
The Spinach Song……….Julia Lee
Weed……….Bea Foote
Sweet Marijuana Brown……….Viper Mad Trio
Pipe Dream Blues……….Hazel Meyers
If You're A Viper……….Rosetta Howard
LISTEN TO THE SOUNDTRACK! Check out GCTMag's Spotify playlist for J&B's at tinyurl.com/548u5zpp
A Tea Pad for Modern Times
J&B's design, layout and overall vibe are evocative of a "tea pad." These Jazz Age speakeasy-style spaces were secret gathering places where Black people and other POC could safely socialize and consume cannabis and alcohol during Prohibition in the 1920s and 30s. The tea pads in New York City in particular were a pillar of the Harlem Renaissance. They served as an alternative to the white speakeasies of the time, which defied the law in one way but upheld it in a more sinister fashion by enforcing segregation.
With a customer experience that Beatty and Andersen describe as "Sephora-meets-Disneyland," J&B's flagship store offers more than just a shopping moment. It's crafted to educate and elucidate the way cosmetics brand Sephora does, while committing fully to character and an immersive experience à la Disneyland.
Advertisement
"We love helping women of color learn about cannabis. From THC percentages to strain types and terpene profiles, there is no question not worth asking. In our space, we are affect-focused and aim to help you heal, ease tension or uplift," Beatty says.
With an interactive Terpene Bar and various reading materials, there is no lack of information about cannabinoids in the dispensary. J&B's finds a way to incorporate accessible education throughout the retail space, while still alluding to a cooler era. The shop hones in on the rebel spirits of Josephine Baker and Billie Holiday, two legendary artists and performers who used cannabis and were persecuted for it.
Two signature, custom J&B's house strains are linked to the famous musicians. "Billie" has a relaxing effect, while "Josephine" provides an uplifting euphoria. These strains were grown by Ball Family Farms, a cultivator for which Andersen is also COO. The pre-rolls packed with the Billie and Josephine strains are exclusive to J&B's and act as smokable mascots for the store. To further the callback to Prohibition times, guests have the option to say a password to gain access to a lounge area.
Accessible Luxury with Style
J&B's has the interior design of a high-end retail space while also creating a consumer journey full of nostalgia and cultural context. This may sound like a difficult infusion, but Beatty has lots of experience making luxe items accessible to an under-served audience. Before opening the doors at J&B's, she founded The Apothecarry, a high-quality line of cannabis storage products.
With her Apothecarry line, Beatty filled a specific need with a mindful purpose to serve people who use cannabis but not recklessly, who need to consume safely while safeguarding children or animals, and who simply enjoy nice things.
And Apothecarry boxes do more than just keep cannabis flower out of reach from others—the attractive containers also have humidity controls and organizational compartments.
Andersen is behind J&B's strategic design and planning, guides business development, troubleshoots roadblocks, and more. She has managed dozens of cannabis projects in California, as well as consulting on Washington, Oklahoma and Nevada ventures. She's known for helping operators convert cannabis start-ups into fully functional, compliant operations, earning her the nickname the "Olive Pope" of planning.
Advertisement
Beatty and Andersen's thoughtful, visionary collaboration is evident in J&B's understated and elegant interior design. Maggie Wilson, CMO of organic edibles maker Fruit Slabs in Long Beach, CA, describes walking into the shop as akin to finding yourself in Harlem or Chicago during the Roaring 20s.
Jazz bops in the background. Decorative lighting and a pink velvet couch provide welcoming warmth. Product is displayed in beautiful arched cases and the herringbone floors, flocked wallpaper and framed, historical photos all add to the aesthetic.
"It feels like it's everything out of a Pinterest board that I would want a dispensary to look like," Wilson says.
Five Cool Things About
Lane & Kate
1. TAKE YOUR TIME. J&B's is all about each customer's journey, not pushing brands. The emphasis is on comfort and making discoveries at one's own pace. Customers are encouraged to take their time and meditate in the lounge or read a book while they take in their surroundings and learn about cannabis-based solutions for their needs.
2. THE PEN PAL PROJECT. J&B's works to help and comfort the many U.S. women currently incarcerated because of the War on Drugs. Customers can write notes for women prisoners through a Pen Pal Project the dispensary promotes on site.
3. SOMETHING FOR EVERYBODY. There's never pressure to buy high-potency items at J&B's. Instead, the shop's Herbal Wellness Advocates walk customers through the store, asking questions and offering solutions. Those may include J&B's deep bench of cannabis flower, pre-rolls, concentrates, tinctures, topicals and edibles.
Advertisement
4. DAILY SPECIALS. Special offers are tailored for the special class of customer J&B's serves. There are 10 percent discounts on Mommy Monday (storewide discounts for moms), Tincture Tuesday (all tinctures and concentrates), Sexy Saturday (all edibles) and Soulful Sunday (all minority-owned and social equity brands), and more.
5. TOUCHED BY BLACKNESS. Fruit Slabs CMO Maggie Wilson has been to countless dispensaries and seen many efforts to turn a brick-and-mortar location into something special. But nothing before Josephine & Billie's has provided an experience so tailored to her as a Black woman. "It is touched by Blackness and you can tell how iconic it is," Wilson says.
PHOTO GALLERY
(17 IMAGES)
Try This:
Create a Learning Space
Josephine & Billie's aesthetic is nostalgia-tinged jazz but the store is a place of education more than anything else. Throughout J&B's, there are countless opportunities to learn and a nurturing vibe that makes it easy for a customer to take it slow without the fear of judgment. "We don't have budtenders. We have Herbal Wellness Advocates," says COO Ebony Andersen. "We don't have customers or patients. We have community members."

SPONSORED VIDEO
Cannaconvo with Peter Su of Green Check Verified
Cannabis Last Week with Jon Purow interviews Peter Su of Green Check Verified. Peter Su is a Senior Vice President with Green Check Verified, the top cannabis banking compliance software/consultancy in the space. A 20+ year veteran of the banking industry, Peter serves on the Banking & Financial Services committee of the National Cannabis Industry Association. He chairs the Banking and Financial Services Committee for the NYCCIA & HVCIA. He is an official member of the Rolling Stone Cannabis Culture Council. And, he is on the board of the Asian Cannabis Roundtable, serving as treasurer.