From small-batch spirits to actual rocket science, the paths people take to arrive at a cannabis career can be all over the map. Global Cannabis Times takes a look at a few of these stories.
---
SHANNON
REED
Omura's CMO draws upon her decade of experience marketing high-profile, high-value brands to bring the vape maker's products to new markets in the U.S. and Europe.
Omura at a Glance
Omura is a next-generation heat-not-burn platform for the consumption of whole flower cannabis and hemp CBD in cartridges.
HQ: Venice, CA; IPO STATUS: Private; INDUSTRIES: Cannabis, Health & Wellness; KEY PRODUCTS: Series X/Series 1/Series XLE Whole Flower Vaporizers, Flowersticks (Pre-Filled & Fill-Your-Own); KEY PEOPLE: CEO Mike Simpson, CMO Shannon Reed, VP of Operations Maor Moalem; GCPP* RANK: 226; WEBSITE: Omura.com
*GCPP (GLOBAL CANNABIS POWER PLAYER) RANK is derived from rolling quarterly tracking of Crunchbase's ranking of cannabis-focused companies in its 1.5+ million worldwide company database.
---
SHANNON REED has a teak surfboard hanging on the wall of her home office. It's a kind of symbol for where she's been and where she still wants to go. When Reed joined vape device maker Omura in 2019 as chief marketing officer, she thought she'd be doing a lot of travel to help the company expand its international footprint. Join a cannabis company, see the world!
A global pandemic got in the way of all that. Omura, the brand, traveled around the world to new markets in places like Portugal and Switzerland. Omura, the people, remained stuck behind computer screens, orchestrating the journey from the U.S.
For now, faraway waves crashing against faraway shores must wait. Omura's CMO and her surfboard will bide their time, building international brand awareness from the home office.
Before she joined the Venice, CA-based vape startup, Reed helped build teams and brands for marketing and advertising agencies 72andSunny, Droga5, Johannes Leonardo and Grey Group. Listed together, her accounts read like a particularly rollicking Silicon Valley product launch party—Google, Dropbox and Bacardi are a few of the brands she touched in major marketing campaigns.
Reed brings to her new career in cannabis a decade of experience building and managing the teams in charge of such valuable brands in often cutthroat agency settings. Working hand in virtual hand with retail partners selling Omura products hasn't always been easy but it's been singularly productive in the past year, she says.
Swiss Seasoning
Picking the right markets with the right partners was key. In 2021, Reed had to align her company's marketing and comms objectives with cultivator and retail partners partners in countries like Switzerland, all over video calls and email chains.
"Switzerland was the first European market we entered and it was really interesting for several reasons. First, it's a country that has a pretty big smoking culture in general and second, they have a lot of awareness around IQOS, which is heated tobacco, a similar technology to ours," Reed says.
Switzerland permits sales of up to 1 percent CBD flower in tobacco-alternative products throughout the country and has even more permissive rules about recreational cannabis sales in designated cities.
Reed singles out Heimat as a cultivator partner that really helped Omura figure out the Swiss market.
"Heimat was very well established in market when we partnered with them. They started in the tobacco space but are now in the hemp CBD space," Reed says.
"[Heimat marketing director] Bjoern [Koch] and everyone on the team has been incredibly helpful to us, getting on the phone, explaining the market, talking us through everything and then helping us create their product in our package and for our system."
In Switzerland, Omura packs its patented, pre-filled "Flowersticks" with flower grown by Heimat, Legendary and Alpine Farm. The product sells in more than 60 Swiss retail outlets. Customers can now smoke Swiss-cultivated Flowersticks using Omura's elegantly designed Series X or Series 1 vaporizers, which use convection heat to produce minimal vapor and leave no lingering odor.
Global Ambitions
Founded in 2018, Omura in just a few short years has expanded sales operations from its California base to states across the U.S. and into several European countries. Remarkably, CEO Mike Simpson, Reed and the Omura team have pulled off most of this work during the COVID pandemic.
A key element of this success has been knowing how to work with partners, to keep communications flowing and the morale of joint go-to-market teams elevated. Reed has drawn on every bit of her experience to make this happen. And she says Omura is only just getting started.
"I do think it's funny how we got here. We've done a lot of this during COVID, so it's been a different sort of experience than I think I've ever had, where you're building an international business via Zoom meetings. And 2022 will be even bigger," Reed says.
---
DR. PETER
HUSON
Working with humanity's deadliest weapons convinced Backbone Software's COO that he wanted to move as far away from the military-industrial complex as he could get.
Backbone Software at a Glance
Backbone is a developer of compliance-tuned supply chain tracking and management software for the cannabis and hemp industry.
FOUNDED: 2017; IPO STATUS: Private; INDUSTRIES: Cannabis, Software, ERP; KEY PRODUCTS & SERVICES: Integrated, customizable supply chain (inventory tracking, compliance, finances, productivity, profitability) software and services; HQ: San Francisco, CA; KEY PEOPLE: Founder & CEO Rajesh Chandran, Co-Founder & CTO Vic Patil, COO Dr. Peter Huson, CSO Roger Crossbeam; GCPP* RANK: 833; WEBSITE: BackboneIQ.com
---
IT'S POSSIBLE to be very good at your job but not very happy with the kind of work you're doing. When this happens, you're faced with a dilemma—keep doing something that doesn't make you happy or abandon the career skills you spent so much effort developing.
But sometimes there's a third way. Sometimes, you can redirect your talents towards work you really are passionate about. That's what Dr. Peter Huson did when he helped start Backbone Software and took on the role of chief of operations.
Huson, who holds a Master of Science in aerospace engineering and a PhD in structural engineering, is an honest-to-goodness rocket scientist. He's contracted for NASA and worked on projects at Los Alamos National Laboratory. When he found himself working on the most destructive weapons systems in humanity's arsenal, Huson decided it was time for a change.
"Believe it or not, the history of Backbone starts with my dislike for nuclear weapons. I was a PhD structural engineer working with the Department of Defense. We did a lot of work on final element analysis, working on the effects of bombs on buildings, studying our nuclear arsenal," he says.
"And I decided I didn't want to do that anymore. I decided to get as far away from the government as possible."
Let the Music Play
One of Huson's first ventures away from government work was to co-produce a music festival in California's Mendocino County, Northern Nights (NNMF). It was a far cry from nuclear weapon systems and the DoD, but it reflected his passion for music and people.
He was also active in the cannabis legalization movement, co-authoring California's AB-2020 bill which gave local jurisdictions the right to issue temporary cannabis sales licenses at events. The bill was signed into law by Gov. Jerry Brown on Nov. 26, 2018 and went into effect on Jan. 1, 2019.
This confluence of cannabis and concert promotion paid dividends when Northern Nights became the first festival in the state with legal onsite cannabis sales.
It was off to the races for Huson. He co-developed the cannabis dispensary at the iconic One Log cafe and gift shop in Garberville, CA. He served as compliance officer for Mesh Ventures in Oakland, CA. Along the way, Huson says he also helped various people acquire more than 50 cannabis licenses.
Supply Chain Smarts
Huson and some partners started investing in cannabis suppliers. They discovered that there were holes in how cannabis supply chains were being managed. Available enterprise resource planning (ERP) solutions by the likes of Oracle and SAP weren't specialized enough for cannabis operators, meaning there was an opportunity to build a more customized software platform.
"Basically, we got a handful of ERP software developers and machine learning folks together with a handful of us cannabis consultants and disgruntled defense contractors and CPAs. We said, this sounds like a cool project, let's start working on it," he says.
Backbone, based in San Francisco, bills itself as a fully customizable supply-chain management platform that enables cannabis grower-processors to track production, compliance, cost of goods sold (COGS), yields and audit reporting data in real time.
The Backbone team is a mix of Silicon Valley veterans like CEO Rajesh Chandran and seasoned Northern California cannabis operators. But as Backbone has achieved success, things have come full circle in a strange way for the former rocket scientist.
"One of the funniest things about this is that I really wanted to get as far away from the government as possible. But by working on Backbone, where we have become so good at managing government reporting, I'm actually in a lot of contact with government here in the U.S. and abroad," Huson muses.
"And I'm kind of like, man, they found me."
---
JUSTIN
TIDWELL
The Green Rush founder is a third-generation packaging manufacturer who draws on his family history to create a culture of caring at his Irvine, CA-based company.
Green Rush Packaging at a Glance
Green Rush Packaging is a maker of premium and custom packaging in various materials for legal cannabis and hemp products of all kinds.
FOUNDED: 2017; IPO STATUS: Private; INDUSTRIES: Cannabis, Consumer Packaging; KEY PRODUCTS & SERVICES: Cannabis & hemp product packaging, child-resistant bags, bottles, jars & tubes; HQ: Irvine, CA; KEY PEOPLE: CEO Justin Tidwell, COO Jeremy Ward, VP of Sales and Business Development Carmen Lam, VP of Global Procurement Chandra Cairney, Director of Marketing & Customer Experience Christina Corbin
; GCPP RANK: Not ranked; WEBSITE: Greenrushpackaging.com
---
SPEAK WITH JUSTIN TIDWELL long enough and it starts to sound like an installment of the Fast & Furious series. Like the film franchise's beefy patriarch Dominic Toretto, Tidwell is very big on family.
The founder and CEO of Green Rush Packaging is a third-generation packaging manufacturer. Tidwell draws on his own family's tradition of industrial excellence to foster a family-like atmosphere at the cannabis packaging company he founded in 2017 after graduating from the University of Arizona.
"My family's background contributed greatly to the success we have experienced at Green Rush. My grandfather started the original packaging company, Pacific Western Sales, out of his bedroom closet. I was lucky enough to learn the packaging business from the ground up, being mentored by my dad and grandfather," he says.
Tidwell's is a classic story of showing up to pitch in with the family business early and often.
"I started working in the warehouse when I was 12. I worked in every department from accounting to sales to learn the operation inside and out," he says.
The Light Bulb Moment
Like many ambitious business majors, Tidwell knew he wanted to launch his own company. But he wasn't sure where or how or even what industry to take a crack at.
"'I'm not from the cannabis industry. I really didn't know much about cannabis or what it was all about. But one day while I was getting my degree in entrepreneurship, I went out to lunch with a friend and I saw a medical dispensary for the first time," he says.
"And I looked over to my buddy and I go, 'Wait a minute, are they selling cannabis? There's a sign outside of the shop and everything. Is that legal?' And he says, 'Yeah, it's legal,' and right then I kind of had that little bit of a light bulb moment."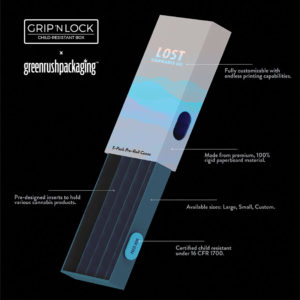 Tidwell had discovered the Green Rush. But instead of scrambling to get a license and start a grow, he thought along the lines of the business people who wound up profiting most from the earlier Gold Rush in his home state of California. Instead of producing cannabis himself, Tidwell wanted to outfit cannabis producers with the equipment and services they needed to seek their flowery fortunes.
"I thought, you know, my family has over 50 years of experience in the packaging industry. I could do something here," he says.
Bringing It All Back Home
Tidwell leveraged his experience to start GRP, which has become a leading maker of packaging for cannabis products of all kinds. Green Rush, based in Irvine, CA, makes everything from flower, pre-roll, edible and concentrate packaging to tincture and pill bottles, pharmacy-style bags and assorted child-resistant carriers and containers.
But the company had a bit of a rocky start. Tidwell says in GRP's first year, he had trouble with employee retention. He knew he needed to make a cultural change to develop a happier, more productive work force, so he went back an old familiar refrain.
"Our company was founded on family values," Tidwell says, explaining that reemphasizing that fundamental mission turned things around at Green Rush Packaging.
"We believe that our core value of running the business with a 'culture first' mentality has been the No. 1 attribute of the success we have experienced here at GRP," he says.
Dom would surely approve.
---
MARION
MARIATHASAN
The Simplifya co-founder & CEO takes lessons from his background in wine and spirits to better support cannabis businesses using his compliance software and services.
Simplifya at a Glance
Simplifya is a developer of cloud-based, Software-as-a-Service legal compliance applications for the cannabis industry.
FOUNDED: 2016; IPO STATUS: Private; INDUSTRIES: Cannabis, Software, Compliance, Legal Services; KEY PRODUCTS: Self Audits, SOPs, Smart Cabinet, License Tracker, Simplifya Market Guide; HQ: Denver, CO; KEY PEOPLE: Co-Founder & CEO Marion Mariathasan, General Counsel & Chief Banking Officer Kartrina Skinner, COO Rick Matsumoto, Senior VP of Operations John Morgan, VP of Partnerships Brooke Butler; GCPP* RANK: 154; WEBSITE: Simplifya.com
---
MARION MARIATHASAN knows software, the law and regulatory compliance. He is just as passionate about the finer things, like small-batch tequila, elegant cigars and kick-ass cannabis flower. Not just for their pleasurable qualities, he's quick to clarify—but for the craft, artisanship and tradition that goes into creating such exquisite products.
Mariathasan is a first-generation Coloradan by way of Kansas and Sri Lanka, arriving in the U.S. with his parents in the 1980s. He found his pathway to cannabis via a few happy, if challenging, circumstances. The first was location—Colorado is ground zero for legal adult-use cannabis in the United States.
"When customers find out where Simplifya is headquartered, being here has certainly given us a lot of credibility," he says.
Mariathasan co-founded Simplifya in 2016 to help cannabis license holders in Colorado and elsewhere navigate the often eclectic, byzantine regulatory frameworks for growing, processing and selling cannabis in different U.S. state and local jurisdictions.
"As a compliance company, being in Colorado at the beginning was both a blessing and a curse. So much of the landscape was changing here early on, meaning risk-reward outcomes could be pretty unpredictable," he says.
"But being here helped us drink from the firehose. We learned as much as we could from the successes and mistakes of the industry within Colorado, so that we were able to be better prepared when other states started to legalize."
Tools for the Trade
In partnership with the Vicente Sederberg law firm, Denver, CO-based Simplifya is now a leading regulatory and operational compliance company servicing the cannabis ecosystem with advanced software and technologies.
"At heart, I'm an entrepreneur. I like to solve problems through strategic thinking, create software solutions to problems, and then build a roadmap, assemble a team, find the right investors and execute," he says.
An earlier venture in creating an international brand with a small, traditional tequila maker in Mexico was also instrumental to Mariathasan's journey into cannabis. Mariathasan and his brother Gracian were running a wine and spirits import company when an opportunity arose.
Patron of the Artisans
"A while back I was introduced to a family that was making tequila for many generations. Their dream was to bring their product to the U.S. However, the original brand lacked many of the elements needed to be marketed successfully in the U.S., so my brother and I got involved and we basically helped create a new brand from the ground up," Mariathasan says.
Mariathasan describes the venture as a learning experience that helped prepare him for the cannabis industry. But perhaps the most enduring lesson, he says, was that business is about people at least as much as it is about product and profits.
"We learned a lot. What interested me in the spirits world was not so much the tequila itself, but the challenge of helping a family who was so proud of their heritage and their dream of bringing their product to America. Of course, once we got rolling, the profits were nice too," he says.
---
BRANDON
BARKSDALE
The new CEO of Dalwhinnie Farms takes the reins at a working equestrian training ranch nestled in the Rockies that just happens to also produce high-end cannabis products.
Dalwhinnie Farms at a Glance
Dalwhinnie Farms is a cannabis cultivator and manufacturer with a grower-processor operation and luxury brand products, as well as one boutique dispensary in Aspen, CO.
FOUNDED: 2020; IPO STATUS: Private; INDUSTRIES: Cannabis, Health & Wellness, Retail, Luxury Goods; KEY PRODUCTS & SERVICES: Cannabis flower, pre-rolls, concentrates, medical vapes sold wholesale and via dispensary; HQ: Ridgway, CO; KEY PEOPLE: CEO Brandon Barksdale, Chief Revenue Officer Ashley Grace; GCPP RANK: Not ranked; WEBSITE: Dalwhinnie.com
---
TO PARAPHRASE MALVOLIO, some people are born in charge of companies, some achieve that role, and some have it thrust upon 'em. Brandon Barksdale is firmly in the second camp. The Maryland native is a true grinder, working hard to earn his role as CEO of vertically integrated cannabis company Dalwhinnie Farms.
For years, Barksdale put in the hours learning best business practices at industry-leading financial and IT firms like Merrill Lynch, Fannie Mae and ManTech, as well as directing more focused advisory practices with firms like FTI Consulting and CohnReznick. When Dalwhinnie Farms invited him last year to Ridgway, CO to helm the family-owned company, he was ready.
"My background is that I was in professional services for the majority of my career. I didn't start off in cannabis, though I have advised cannabis businesses for many years now. I started in a broader professional services role, tackling multiple industries. Everything from retail to manufacturing to consumer products, and I've had some government and financial services experience as well," Barksdale says.
Dalwhinnie, positioning itself as maker of high-end cannabis products, has made several notable moves in the past few years. In October 2020, the company acquired Shift Genuine Cannabis, a popular Colorado maker of premium cannabis flower, pre-rolls, concentrates and medical vape cartridges. Around the same time, the company opened its one and only dispensary. At the posh boutique in Aspen, CO, Shift and long-cured Dalwhinnie Farms Connoisseur Grade Cannabis products are sold alongside luxury items like Rolex watches, leather goods and sterling cut glass whiskey decanter sets.
Barksdale challenge is clear—balance the company's commitment to quality with its ambition to grow. Happily, he can draw upon all of his experience in professional services to do it.
Hometown Health Nuts
But first a detour. Before pulling up stakes and moving to Colorado's Uncompahgre Valley beneath the northern San Juan Mountains, Barksdale teamed up with his sister on a project much closer to home.
Last November, Brandon and Sharisse Barksdale-Lane opened the fast-casual restaurant Greenbar in Fort Washington, MD. The goal was to bring healthy food choices to their home digs of Prince George's County, much of which is categorized as a food desert with poor nutritional dining options.
"During the pandemic, we were stuck at home just trying to order delivery and takeout. When your only option is Chinese or fried wings, it's a really big issue, and we need to do something about it," Barksdale-Lane told Afro.com last December.
The siblings did something about it by opening Greenbar after nearly a year of planning and prep. The restaurant serves build-your-own and signature "passion bowls" filled with healthy ingredients like kale, spinach, quinoa and salmon, dressed with sauces made from scratch.
Care for the quality of what we put in our bodies has traveled with Barksdale to the Rockies. Just as back in Fort Washington, Sharisse still sources produce for Greenbar from local, organic farms, Brandon knows that the quality of Dalwhinnie's cannabis product lines is the most vital thing to get right.
A Steady Hand in the Wild West
But even when the product is right, there's still room to improve the surrounding parts of the business in key ways, Barksdale says.
"In my career, I've been able to step in and help cannabis companies with business transformations. That's everything from risks and controls, making process improvements, organizational efficiencies, all the ways we can have movement towards excellence and maturity within an organization," he says.
With cannabis, the newness of the industry and the uncertainty surrounding the regulatory environment makes it even more important to nail down your core business practices, according to Barksdale.
As with Greenbar, the end game is bringing healthier, happier options to people with the products he sells.
"It's really about the the underlying experience of cannabis and that's driven around the whole purpose of wellness. Whether it's more medicinally driven or more recreationally driven," Barksdale says.
SPONSORED VIDEO
Cannaconvo with Peter Su of Green Check Verified
Cannabis Last Week with Jon Purow interviews Peter Su of Green Check Verified. Peter Su is a Senior Vice President with Green Check Verified, the top cannabis banking compliance software/consultancy in the space. A 20+ year veteran of the banking industry, Peter serves on the Banking & Financial Services committee of the National Cannabis Industry Association. He chairs the Banking and Financial Services Committee for the NYCCIA & HVCIA. He is an official member of the Rolling Stone Cannabis Culture Council. And, he is on the board of the Asian Cannabis Roundtable, serving as treasurer.