Four Strategic Paths to Brand Expansion
Here's a guide to the risk-reward ratio for different ways cannabis brands can expand into new state and national markets.
SUCCESSFUL CANNABIS BRANDS looking to expand into new states initially assess the regulatory strictures that determine each state's overall growth prospects, then the competitive landscape that will impact its market share. Then they move on to critical decisions about how to enter a new state:
Should the company "go it alone" and either apply for operating licenses from the state or acquire companies that already own them?
Or should it partner with companies already licensed and operating in the target state?
If the latter, what sort of deals should it cut with those partners?
The major multi-state operators (MSOs) generally go it alone, adopting the same vertical integration model that they learned to love in restrictive licensing states like Florida. To the extent they sell their branded products in their own stores, MSOs get to book as revenue every dime the consumer spends, which in most other CPG product categories would be split at least four ways: the "farm-gate" price of the raw materials, the value-add of the manufacturer, the wholesaler's mark-up, and the retailer's gross margin.
But most branded-products companies have neither the resources for—or, frankly, any interest in—being vertically integrated, either up the supply chain into cultivation or down it into retail. That still leaves them plenty of options, from going it alone as a fully state-licensed manufacturer/distributor to a variety of less expensive partnering models.
Market Factors Driving the Data
Global Go Analytics (GGA) has worked with several brands on expanding to new markets and has developed the accompanying fi nancial modeling chart (Table 1) to compare the di erent approaches. The assumptions shown in the chart represent a wide range of actual deals terms, many of which are subject to negotiation with in-state partners. And on the back end, results will vary based on regulatory regime, scale, e ciency and strategic decision-making. But these models represent the basic choices brands have to make as they expand outside their home states.
Advertisement
ASSET-LIGHT. The out-of-state brand-owner contractually grants the right to use its brand names, recipes and processes to an operator in a new state. It coordinates marketing with that partner and provides promotional materials. Increasingly these days it embeds a "brand champion" in the local partner's sales force. But the local licensee assumes almost all other costs (manufacturing, packaging, in-state media buys, salespeople, physical distribution and customer service) and it pays a royalty in the 10-15-percent-of-wholesale-revenue range to the brand.
ASSET-MEDIUM. The out-ofstate brand-owner also provides 1) materials legal to ship across state lines (such as packaging and, with edibles, the non-medicated product base); 2) a larger dedicated sales team; and 3) more in-state marketing support. The in-state partner manufactures, markets, sells and physically distributes the finished products, and shares about one-third of wholesale revenue with the brand house.
ASSET-HEAVY. The out-of-state brand-owner either a) builds and operates licensed manufacturing/packaging facilities or b) pays a white-label manufacturer for the finished product. The brand house also deploys its own full sales team and covers almost all in-state marketing costs. Essentially, it is becoming a state-licensed manufacturer, but hiring a state-licensed, full-service distributor to handle physical distribution and customer service, typically for about 25 percent of wholesale revenue.
GO-IT-ALONE. The out-of-state brand-owner replicates its homestate operations from the ground up. It develops its own licensed manufacturing/packaging/distribution facilities, hires its own sales and distribution teams, and pays for all in-state marketing, pocketing all of wholesale revenue.
Global Go Analytics modeling of the options suggests that going it alone generally allows a company to pull the biggest chunk of gross wholesale revenue (28 percent) from its products through to the profit line on its P&L. "But the higher margin also comes with much higher cost and capex investment," said Jesus Burrola, CEO of POSIBL, a licensed cultivator and manufacturer in Salinas, California.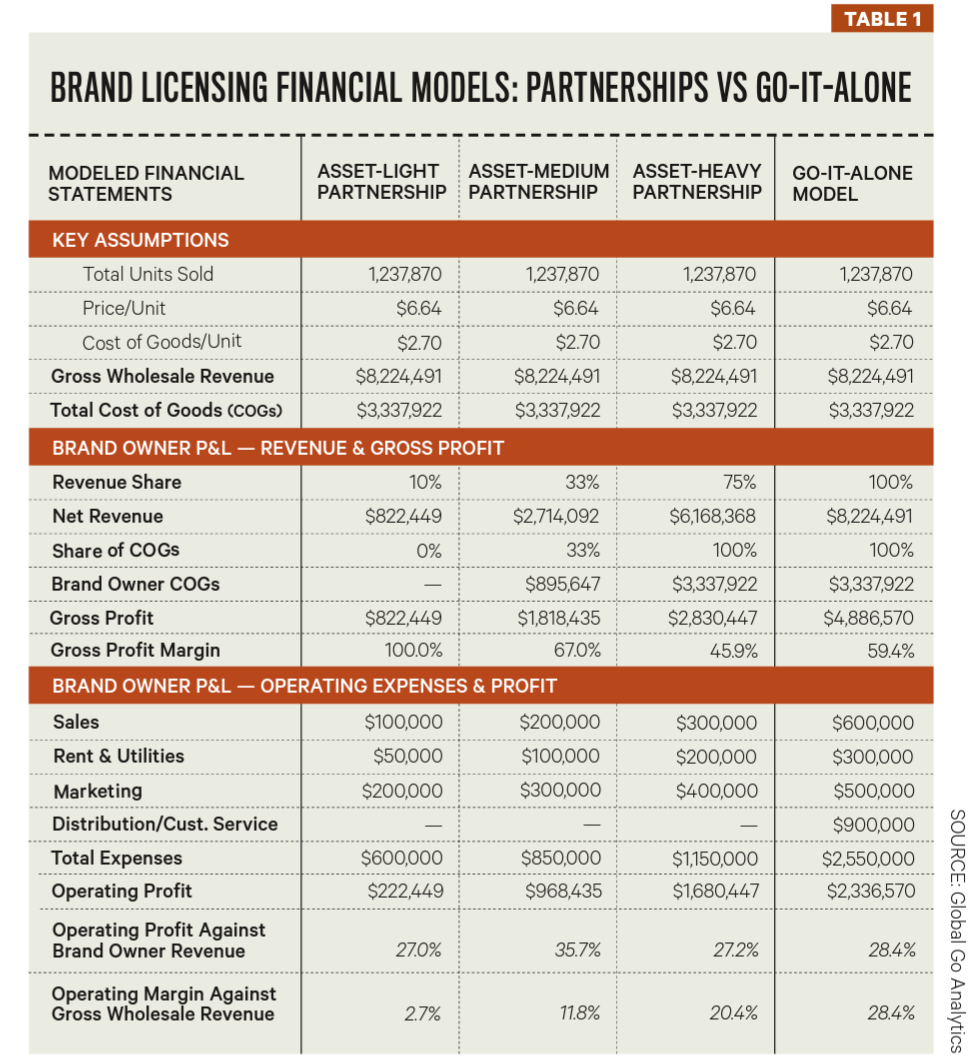 Real-World Strategy Outcomes
Most of the early successful brands in western states went asset-light in their first expansions beyond their home states. In some states, they had no choice given regulatory regimes that in those days sometimes barred out-of-state ownership of licenses. But it also allowed them to move quickly into multiple new states at a lower cost.
"You can get there more quickly, especially in smaller, new markets where it can be pretty profitable since there's less price compression. But it's important to get there early," Wana Brands founder Nancy Whiteman said on a panel called "How Brands Scale Outside the MSO Structure" at the September 2022 Benzinga conference in Chicago.
The asset-light model carries its own risks, however. Most importantly, the model gives brand-owners less control over product and product marketing they bring to the market. The downside risks can include underperformance by a partner's sales and marketing teams or, worst of all, bad manufacturing or other practices by a partner that can taint a brand name in a new market. Contracts need to be carefully worded to spell out expectations and provide recourse if things go poorly.
That's why more recent expansion efforts have typically gone heavier on a brand's involvement. Even at the asset-light end of the scale, brands are getting more involved in all aspects of the business in the expansion state. "It's better when we do more of the marketing and sales," Whiteman said.
Advertisement
California-based beverage-maker Cann is an example of the asset-medium model used out of a brand's home state. Co-founder Luke Anderson, speaking on the same Benzinga panel, described how Cann purchases its own packaging and produces the non-medicated base of its drinks in multi-state volumes at its California facility. Those items can then be legally shipped to partners in other states, who infuse the drinks with THC, complete the manufacturing process, and distribute the final product.
Further out on the asset-heavy end of the scale is California-based Garden Society. Founder Erin Gore told the Benzinga panel, "We're taking templated manufacturing to new states," mainly, she said, because "my background and strength is in manufacturing." The company has found there are several upsides to the strategy: "There's a lot of IP we don't want to lend to partners… and as the manufacturer we can drive lower costs."
Finding the Right Expansion Model
"Ultimately, the best financial path really depends on scale, capital structure and operational efficiency," Burrola said, summing up the calculus.
GGA's analysis suggests that all four of the models can produce similar profit margins in the 30 percent range of reported company revenue, since brand-company revenue and expenses both climb as the role of local partners shrinks. But brand profit as a percent of total wholesale revenue climbs dramatically—assuming all goes well—the more of a role the brand keeps to itself as it expands.
GGA's analysis suggests that all four of the models can produce similar profit margins in the 30 percent range of reported company revenue, since brand-company revenue and expenses both climb as the role of local partners shrinks. But brand profit as a percent of total wholesale revenue climbs dramatically—assuming all goes well—the more of a role the brand keeps to itself as it expands.

SPONSORED VIDEO
Cannaconvo with Peter Su of Green Check Verified
Cannabis Last Week with Jon Purow interviews Peter Su of Green Check Verified. Peter Su is a Senior Vice President with Green Check Verified, the top cannabis banking compliance software/consultancy in the space. A 20+ year veteran of the banking industry, Peter serves on the Banking & Financial Services committee of the National Cannabis Industry Association. He chairs the Banking and Financial Services Committee for the NYCCIA & HVCIA. He is an official member of the Rolling Stone Cannabis Culture Council. And, he is on the board of the Asian Cannabis Roundtable, serving as treasurer.