Medical Marijuana Measure Advances to Kentucky Senate
Republican State Rep. Jason Nemes' bill faces a battle within his own party.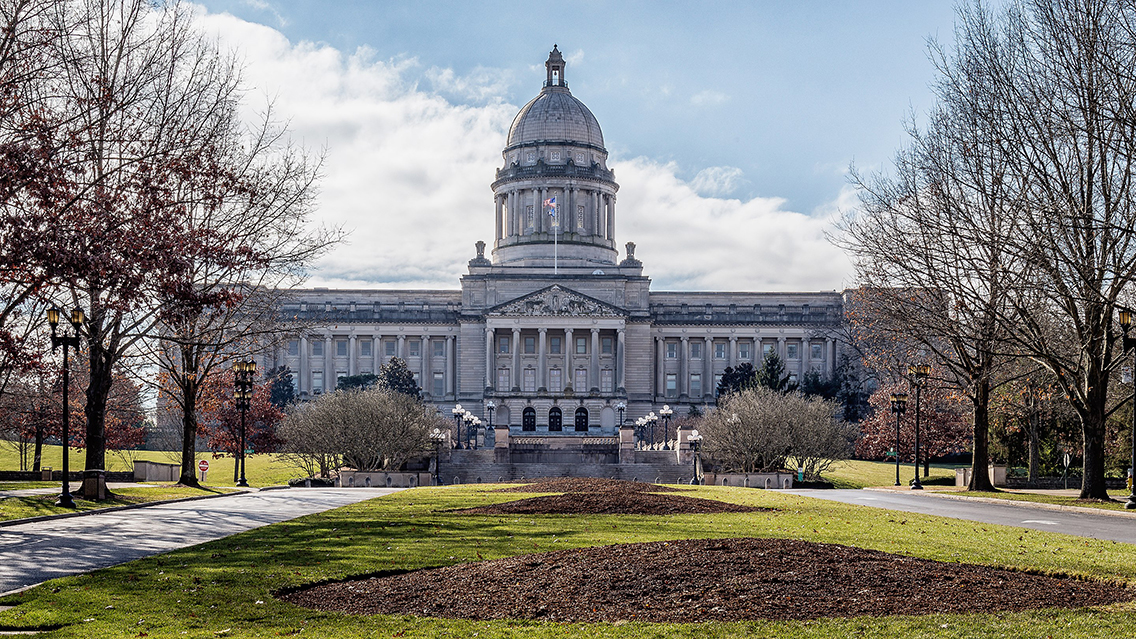 Kentucky can become the 38th U.S. state to legalize medical marijuana if the the GOP-led State Senate passes Kentucky HB 136 and delivers it to the desk of Gov. Andy Beshear, a Democrat expected to sign the bill into law.
The state's House of Representatives passed HB 136 by a vote of 59-34 on Feb. 17. While it would mark a first step for Kentucky towards legalization of cannabis, the bill authored by State Rep. Jason Nemes (R-Louisville) is still highly restrictive. If signed into law, HB 136 would still prohibit the growing or consuming of cannabis flower. And while it would set a baseline for the state legalizing medical marijuana, individual counties could still choose to prohibit its use.
The bill's passage in the Kentucky Senate is still tenuous. Legal cannabis measures have failed to advance there twice in recent years. But support among key players in the Kentucky GOP has been growing, with U.S. Senator Rand Paul (R-KY) and State Senate Judiciary Chairman Whitney Westerfield (R-Crofton) backing medical cannabis.
Nemes, who re-introduced his legalization bill this year after it failed to pass in the State Senate in 2021, stressed the positive impact cannabis could have on the state's economy.
"This is Kentucky-grown, Kentucky-processed, Kentucky-tested [cannabis]. Grown by Kentucky farmers on Kentucky land with Kentucky seeds for our Kentucky brothers and sisters and the Kentucky patients from across the Commonwealth," Nemes said in a statement.
Beshear, the son of former Kentucky governor Steve Beshear, was elected in 2019 on a campaign promise to endorse medical cannabis. In 2014, Gov. Andy Beshear's father signed into law a bill legalizing CBD products.
Advertisement
Medical marijuana is popular with Kentuckians—as many as 90% of state residents polled in various surveys have stated their support for legalization. But the state's Republican Party still stands firmly opposed to recreational use, prompting Nemes to make clear his opposition to recreational cannabis and promise the opposition within his own party that his bill should not be viewed as stepping stone to full legalization of cannabis.
"It's unquestionable that medical marijuana helps some people. I don't think anybody can contest that. Even the people who oppose it, oppose it for other reasons," Nemes was quoted as saying by WKYT-TV.
SPONSORED VIDEO
Cannaconvo with Peter Su of Green Check Verified
Cannabis Last Week with Jon Purow interviews Peter Su of Green Check Verified. Peter Su is a Senior Vice President with Green Check Verified, the top cannabis banking compliance software/consultancy in the space. A 20+ year veteran of the banking industry, Peter serves on the Banking & Financial Services committee of the National Cannabis Industry Association. He chairs the Banking and Financial Services Committee for the NYCCIA & HVCIA. He is an official member of the Rolling Stone Cannabis Culture Council. And, he is on the board of the Asian Cannabis Roundtable, serving as treasurer.