Brittney Griner Meets U.S. Officials but Remains Jailed in Russia
The WNBA star has been in pretrial detention for more than a month on cannabis possession charges.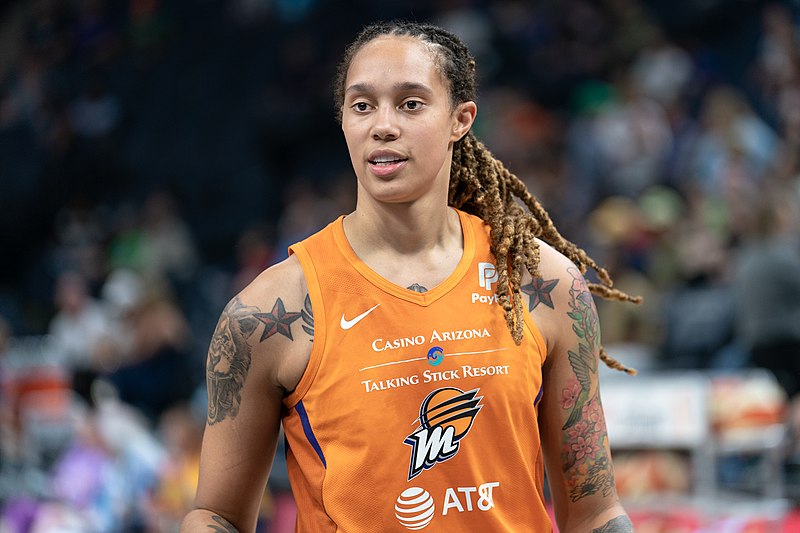 Basketball star Brittney Griner met with U.S. officials this week for the first time since being arrested at the Moscow airport in February and jailed for alleged possession of illegal hash oil vape cartridges, according to news reports.
"The consular officer who visited with Brittney Griner was able to verify that she is doing as well as can be expected under these very difficult circumstances," U.S. State Department spokesman Ned Price was quoted as saying by ABC News on Wednesday.
"We will continue to work very closely with her legal team, with her broader network, to see to it that she is treated fairly and that her rights are respected," Price said.
Detained by Customs officials for vape cartridges
Russian customs agents arrested the seven-time WNBA all-star on Feb. 17 at Sheremetyevo International Airport, just days before Russia launched its invasion of neighboring Ukraine. Customs officials said earlier this month they found cannabis oil vape cartridges in Griner's belongings. Cannabis is classified as an illegal narcotic in Russia.
Russian media reports have said Griner could be facing up to 10 years in Russian prison for her alleged offense, per ABC News, though there has been no official verification of this by U.S. or Russian government agencies.
Possession of up to 6 grams of cannabis is an administrative offense, punishable by a fine or detention of 15 days. Possession of larger amounts of cannabis are punishable under the Russian Criminal Code and those convicted of non-authorized manufacturing, sale or delivery can receive an eight to 20-year prison sentence.
Advertisement
Griner had been in Russian custody for 37 days as of Friday. Earlier this week, Russia reportedly extended the two-time Olympic gold medalist's pre-trial detention to May 19.
Caught up in the crossfire?
Russia's invasion of Ukraine has been broadly condemned by the U.S. and a majority of countries around the world. Observers have expressed concern that tensions between Moscow and Washington over the Ukraine invasion may be affecting Russia's treatment of Griner.
Russia's troop buildup in the weeks before the Feb. 24 invasion of Ukraine prompted the U.S. State Department to warn Americans not to travel Russia and urged U.S. nationals in Russia to leave the country if possible. The U.S. government expressed concern that Americans in Russia might become political targets amidst the rising tension between Moscow and Washington.
Unfortunately, it appears that Griner may now be just such a target of Russian hostility towards Ukraine's political allies. Like many WNBA players, Griner has played for overseas professional clubs during her primary league's offseason. She has played for the Zhejiang Golden Bulls of China's WCBA and since 2015 for UMMC Ekaterinburg of the Russian Premier League and Euroleague, leading the latter team to multiple league titles.
The 31-year-old Phoenix Mercury center had her luggage searched upon arrival in Moscow following a flight from New York. Narcotics-sniffing dogs reacted to "the possible presence of narcotic substances" in her luggage, according to U.S. House Rep. Colin Allred (D-TX). Griner is originally from Houston, TX.
Advertisement
SPONSORED VIDEO
Cannaconvo with Peter Su of Green Check Verified
Cannabis Last Week with Jon Purow interviews Peter Su of Green Check Verified. Peter Su is a Senior Vice President with Green Check Verified, the top cannabis banking compliance software/consultancy in the space. A 20+ year veteran of the banking industry, Peter serves on the Banking & Financial Services committee of the National Cannabis Industry Association. He chairs the Banking and Financial Services Committee for the NYCCIA & HVCIA. He is an official member of the Rolling Stone Cannabis Culture Council. And, he is on the board of the Asian Cannabis Roundtable, serving as treasurer.