Must-Have Products for Cannabis Industry Pros — Summer Edition
Martha Stewart to Mike Tyson… who says everyone wants in the cannabis game? From classic pot brownies to gummie ears, we've picked what YOU want in your cart this summer.
Voon Hemp Snus
Voon Innovation of Helsingborg, Sweden has teamed up with London, UK-based SpectrumLeaf to put a new spin on traditional Swedish tobacco pouches, or "snus." Snus are a variant of dry snuff—users place the pouches between the upper lip and gum for a slow-release effect. Voon Hemp Snus Pouches contain no nicotine or THC but do pack 20mg of hemp-extracted CBD in each pouch. Cans comes with 15 pouches and there are four available flavors—Snazzy Tangerine, Wintergreen, Cool Spearmint and Pink Grape.
Voon's hemp snus are available in Sweden and Hungary. Visit GetVoon.com for more information.
Voon Hemp Snus Pouches Single can (1 flavor), €9.99
Starter kit (4 cans, 4 flavors), €39.96
Bundle (5 cans, 1 flavor), €49.95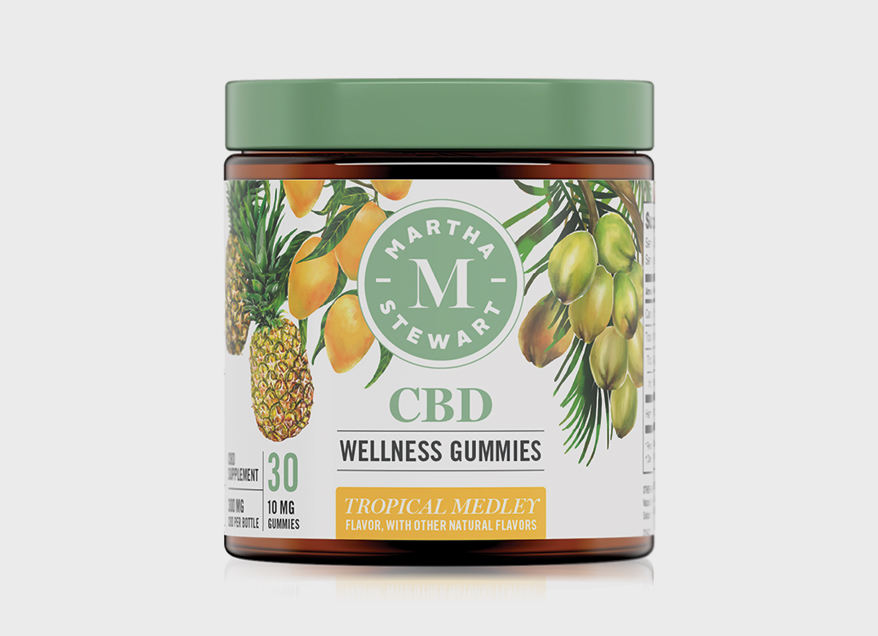 Martha Stewart Tropical Medley Gummies
The latest from NYC-based Martha Stewart CBD, Tropical Medley CBD Wellness Gummies deliver three new humid, fruity flavors—Alphonso Mango, Coconut and Pineapple. Each gourmet gummy packs the healing power of 100% hemp-derived CBD isolate supplied by Martha Stewart CBD partner Canopy Growth of Smith Falls, ON, Canada.
Martha Stewart CBD Tropical Medley Wellness Gummies began shipping in April. Visit MarthaStewartCBD.com for more information.
Martha Stewart CBD Tropical Medley Gummies, 3-count pack, $3.99
10-count pack, $12.99
30-count pack, $34.99
Miss Grass Slims & Sparks
Female-founded Miss Grass has made a pair of pre-rolls the skinny tentpoles of a full-scale rebrand of its premium cannabis line. The Los Angeles, CA-based company has five new packaging SKUs, including Slims, slender reusable doob tubes containing two 0.5-gram pre-rolls, and Sparks, pocket-sized sachets containing two 0.3-gram pre-rolls. Also new are unique jars and boxes for Miss Grass house strains.
Slims and Sparks are available in classic strains or infused with THCA diamonds. Visit MissGrass.com for more information.
Miss Grass Slims & Sparks, Prices Vary
Old Pal Classic Pot Brownie
The latest offering in Old Pal's lineup of "shareable" cannabis products is the Classic Brownie, delivering 20mg of THC in a rich, Belgian dark chocolate brownie that can be divvied up in four 5mg bite-sized squares. Baked with the
Venice, CA-based company's own top-quality Old Pal flower, these fudge bombs are only currently available in Massachusetts. But non-Bay Staters never fear—Old Pal has shared its brownie recipe on its (age-restricted) YouTube account.
Visit OldPal.com for more information.
Old Pal Cannabis-Infused Brownie, $5
Tyson 2.0 Mike Bites
Boxing great Mike Tyson may have fists of iron but on the inside, he's as mellow as the line of cannabis products that bear his name. And the champ has a sense of humor! Mike Bites are gummies packing 10mg of THC each and fashioned in the shape of an ear with a bite chomped out of it—a playful reference to Tyson's infamous nosh on rival Evander Holyfield's ear during their 1997 WBA heavyweight championship bout.
Mike Bites are available in California, Massachusetts and Nevada. Visit Tyson20.com for more information.
Tyson 2.0 Mike Bites, Price TBD
Mary Jones Beverages & Edibles
Jones Soda Co., the Seattle, WA-based creator of colorful craft sodas, is making a more adult-oriented splash with its new Mary Jones brand of CBD-infused beverages, tinctures and pop bottle-shaped gummies. Each product line is available in Root Beer, Berry Lemonade, Green Apple and Orange Cream:
Bottled soda (10mg per 12-oz. bottle, 10mg/serving, 4-packs)
Canned soda (100mg per 16-oz. can, 10mg/serving)
Syrup Tincture (1000mg per 4-oz. bottle, 10mg/serving)
Gummies (5mg per gummy, 20-gummy package)
Mary Jones beverages and edibles are available in California. Visit MaryJonesCannabis.com for more information.
Mary Jones Sodas, Tinctures & Gummies, Prices Vary
Happi Pomegranate Hibiscus Sparkling Water
Happi has added a third flavor—Pomegranate Hibiscus—to its line of all-natural, vegan cannabis-infused sparkling water drinks. The female-led, Birmingham, MI-based company blends organic pomegranate, lemon, agave nectar and hibiscus with an infusion of 2.5mg of THC delivered in four-pack cartons of slim, 8.4-oz. cans. Happi flavors now include:
Lemon Elderflower (15 calories)
Pomegranate Hibiscus (25 calories)
Raspberry Honeysuckle (20 calories)
Happi sells its products at more than 50 provisioning centers in Michigan. Visit Happihourdrink.com for more information.
Happi Cannabis-Infused Sparkling Water, $4.50/can, $18/carton

SPONSORED VIDEO
Cannaconvo with Peter Su of Green Check Verified
Cannabis Last Week with Jon Purow interviews Peter Su of Green Check Verified. Peter Su is a Senior Vice President with Green Check Verified, the top cannabis banking compliance software/consultancy in the space. A 20+ year veteran of the banking industry, Peter serves on the Banking & Financial Services committee of the National Cannabis Industry Association. He chairs the Banking and Financial Services Committee for the NYCCIA & HVCIA. He is an official member of the Rolling Stone Cannabis Culture Council. And, he is on the board of the Asian Cannabis Roundtable, serving as treasurer.