Tech Spotlight: V is for Vending
Vending machines have even arrived in the cannabis marketplace. GCT reviews where to put your coin.
RETAIL IS ALWAYS innovating to remain relevant, add customer value and address demand wherever it materializes. Take vending machines. They've been around as dispensers of drinks and snacks for generations. But in more recent years, canny vendors have repurposed these old standbys to deliver many more types of products. Think of airports, where vending machines serve harried travelers with must-have items like ear buds, cell phone chargers, pre-paid cell phones, face masks, cosmetics and even baby products like diapers and wipes.
Vending machines can make it easier to transact business for sellers and buyers alike. Reducing retail labor costs can translate to lower prices for items sold (of course, in certain vending environments like airports that have "captive" customers, those price savings seem to magically disappear).
And yes, you guessed it—vending machines have even arrived in the cannabis marketplace. Currently, five U.S. states allow vendors to acquire a cannabis vending license. These are Colorado (which in 2014 became the first state to introduce an edibles-only vending machine), Oregon, California, Massachusetts and Florida.
Such machines are not allowed in Canada under its Cannabis Act.
Advertisement
How and When to Vend
What is a cannabis vending machine? Typically, these are fully automated, age-verifying, climate-controlled cannabis dispensing machines that can take payments in exchange for product. Though not a replacement for a knowledgeable budtender by any means, vending machines are often set up as information kiosks that help customers to educate themselves about cannabis purchasing options.
Cannabis vending machines may be set up to dispense either THC products or CBD and hemp-based items, or both, depending on rules and regulations in a given geography. These distribution methods are gaining in popularity, according to vending machine operators, who say customers coming out of the COVID pandemic are more open to and appreciative of a contactless shopping experience.
Vending machines are best suited to certain geographical locations. Machines are ideal for smaller retail outlets in rural and remote locations as an easier-to-access option for consumers than driving long distances to a dispensary superstore. Note that for the most part, states that allow THC product vending machines only allow them on the premises of licensed medical or adult-use marijuana stores.
Another major consideration is the risk of theft in a vending machine location. Unfortunately, we are seeing more crime afflict the legal industry. For example, authorities in Seattle, WA say there is now an average of one dispensary smash and grab per day in the metro area. It's clearly important to protect vending machines from such crime as well.
The Customer Experience
A cannabis vending machine can enhance the buying experience in six key ways, according to Klizo Solutions, a Kolkata, India-based independent software vendor (ISV) developing inventory tracking and vending payment systems for the cannabis industry. These are:
Skip the queue. Vending machine customers can go straight to the front of the line.
Instant access to weed. Make a payment, get your purchase in mere seconds.
Something for everyone. Successful cannabis and CBD vending machines will offer a selection of product suited to a wide range of individual purchasers.
Contactless dealing. Machines eliminate social contact while purchasing cannabis.
Secure payment. High-end machines can easily accept secure payments with cash, cards and NFC payment options.
Smooth ID verification. Most dispensaries still verify your age eligibility by checking your ID at the entrance, but cannabis vending machines can verify age by scanning your ID and/or using biometrics.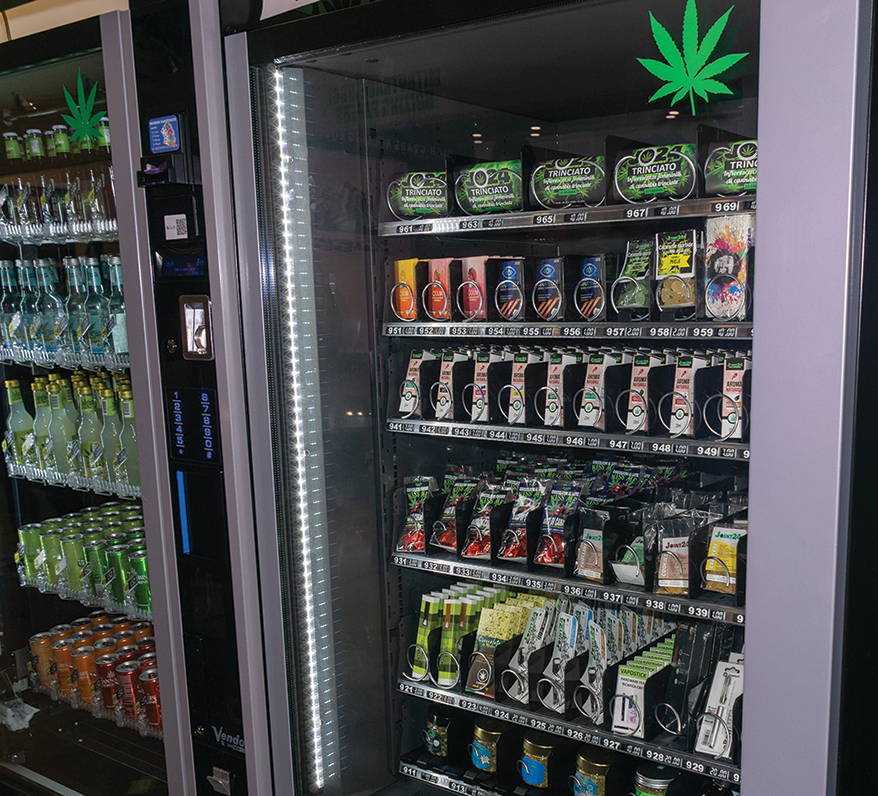 Regulations to Know
It's not a surprise that there are specific regulations that govern cannabis vending machines. Rules for CBD vending machines are likely to be less stringent in most jurisdictions. ILoveCompliance.biz offers this compliance checklist for those considering deploying adult-use cannabis vending machines:
Check local regulations. Find out from your local cannabis regulatory body if they allow vending machines.
Update your premises diagram. The official floor plan/diagram of a licensed dispensary should accurately reflect your vending machine's location, which must be in the Restricted Access Area in most jurisdictions.
Comply with sales quantity, ID and age verification rules. Your machine must have the intelligence and technology to complete these processes for customers and patients.
Don't skimp on security. Make sure your machine cannot be easily broken into or carted away.
Standard operating procedures. You need to document your machine's use and maintenance, as well as who has access to it.
Inventory tracking and storage. Your machine may be required to interface with a seed-to-sale tracking platform like METRC, either directly or through your store's POS system.
Keep it clean. Contactless vending isn't worth much if you don't regularly wipe down and otherwise clean and sterilize your machine.
Verifying Customer Age
Cannabis-dispensing vending machines, like machines that vend alcohol, cigarettes and other age-restricted products, can incorporate age-verification technology—though keep in mind, regulations in your area may not allow adult-use cannabis to be sold via vending machines even with this technology in place.
Here's how a vending machine's age verification system typically works to lock in ID and/or biometric data for customers to be allowed to make a purchase:
The customer uses their phone to take a picture of their ID.
The customer uses the machine's camera to capture their facial image and its scanner to share their ID.
The machine uses facial recognition software to compare the person's face with their ID.
The customer may also be required to provide biometric data like a fingerprint, which may be stored to avoid the more time-consuming ID process for future purchases via the vendor's networked machines.
Present (and future) purchases are now authorized for the customer.
Advertisement
Machines on the Market
Global Cannabis Times was able to identify three companies selling vending machines capable of dispensing adult-use and CBD cannabis products. That's the good news. The bad news—none of the three aced our customer response test. It took a couple of attempts to contact Digital Media Vending and Greenbox Robotics via phone and email to reach a real live person. American Green never responded to us at all.
If you cannot get a company to answer the phone or an email in a timely manner, you have to wonder how good their support and service will be. It also makes it difficult to make a technical assessment of the products and solutions they have available.
In the end, Digital Media Vending was promptest in following up on our message with an email. Sales rep Kidder Davila gave us a nice rundown on his company's vending options. Greenbox CMO Caroline Murphy was equally helpful with info on her company's machines.
Check out the specs and services for all three companies in the accompanying chart below.
1. American Green

Phoenix, AZ
American Green is a cannabis cultivator and CBD product maker which has developed a trio of vending machines. What's not entirely clear is if these machines are available to just anyone or if they are purpose-built for American Green customers like Indianapolis, IN-based mall operator Simon Property Group, which last year installed AG Xpress (AGX) CBD vending machines in its St. Augustine, FL mall. American Green describes its AGX vending system as its "newest and most advanced age verification and identifying vending system to date." The company also makes two older vending kiosks, the barebones AGM Basic and the AGM Pro "smart dispenser." The AGX features a touchscreen display, card reader, speakers for delivering audio instructions to customers and more. American Green claims its machines can be used as dispensers of adult-use cannabis and CBD products, food items, alcoholic beverages, cigarettes, e-cigarettes, over-the-counter medicines, adult products and more items requiring age verification to buy. Americangreen.com
2. Greenbox Robotics

Marina Del Rey, CA
The Greenbox Cannabis Robot is a unique entry in the cannabis vending space. It's essentially a cookie-cutter, plug-and-play cannabis vending solution that delivers product like an arcade claw machine with its trademark robot arm. Greenbox developed the Cannabis Robot in partnership with Oakland, CA-based Treez, a developer of cannabis supply chain tracking and POS software. The Robot is very limited in how it can be customized—you can put different skins on the machine's using vinyl graphics … and that's about it. But the point of Greenbox's vending machine isn't accessories overload, it's ease of operation. The Robot is a 4' x 4' x 6' floor-standing vending machine with all the basics needed for vending cannabis product: temperature-controlled storage, a camera, ID card scanner for age verification, customer-guided UI, multiple payment options including cash, debit card and NFC, a shatterproof glass product viewing window (situated on the side of the box) and delivery bay. Speakers pipe streaming verbal advertising and the UI offers educational tips about cannabis. Easy-peasy, plop this Robot in the middle of your dispensary and start vending. Greenboxrobotics.com
3. Digital Media Vending International

Sebastopol, CA
Digital Media Vending (DMVI) has the broadest range of vending solutions among the companies we're profiling. This Bay Area company, founded in 2009, has built custom vending machines for clients ranging from Krispy Kreme and Rockstar Energy Drinks to Chanel and Petssentials. DMVI recommends its wall-mounted, 10-shelf, coil-dispensing, touchscreen-operated machine for CBD, tobacco and vape products. Both its wall-mounted and floor-standing machines can incorporate age verification via ID scanning and/or biometric verification, according to the company. DMVI also offers the most options for dispensing methods, including coils, conveyor belts and hangers, as well as wide-ranging vending delivery options, like temperature-controlled pickup lockers. With offices in London and Hong Kong, DMVI is the only company we found capable of delivering and servicing CBD vending machines outside of North America. Digitalmediavending.com
Advertisement
Trust But Verify
On paper, these cannabis vending solutions look more or less legit. But there is a common theme we have found with many cannabis technology companies. That discouraging pattern is a lack of a 360-degree focus on bringing a product to market successfully.
Acquiring product information, availability and pricing from a company should be dead easy. Yet we had trouble reaching humans at all three vending machine firms. Websites are also crucial to learning more about companies and both American Green and Greenbox had broken links and missing content on their sites.
To vet any company, you want to see how much traction they've had with their product line—how many installations and at what volume and satisfaction rate? That can be difficult to gauge with startups like Greenbox and even with established companies just entering a particular category, like American Green is doing with vending machines. In these cases, communications from company reps is really important.
So make sure to get answers before pulling the trigger on a cannabis vending machine!

SPONSORED VIDEO
Cannaconvo with Peter Su of Green Check Verified
Cannabis Last Week with Jon Purow interviews Peter Su of Green Check Verified. Peter Su is a Senior Vice President with Green Check Verified, the top cannabis banking compliance software/consultancy in the space. A 20+ year veteran of the banking industry, Peter serves on the Banking & Financial Services committee of the National Cannabis Industry Association. He chairs the Banking and Financial Services Committee for the NYCCIA & HVCIA. He is an official member of the Rolling Stone Cannabis Culture Council. And, he is on the board of the Asian Cannabis Roundtable, serving as treasurer.