NYC's Illegal Weed Stores: Seven Down, One Thousand, Four Hundred, and Ninety-three to Go.
Governor Hochul begins battle with unlicensed marijuana shops as MSOs await.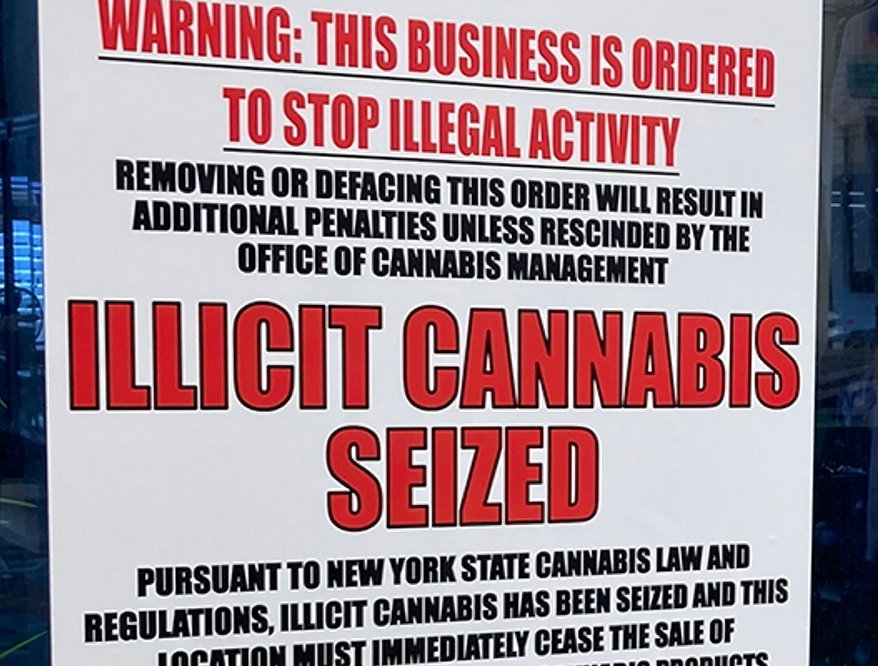 New York State regulators conducted raids on seven unlicensed smoke shops in Manhattan Wednesday for unlawfully selling marijuana and cannabis products, reports Patch.
The inspections mark the beginning of a process to shut down the "Wild West" of illegal pot shops in the state, as promised by Governor Kathy Hochul and the Office of Cannabis Management (OCM), Global Cannabis Times reported on May 4th.
Unlicensed weed shops could now face daily fines of up to $10,000 in administrative hearings. And if they continue to sell cannabis despite the penalties, regulators could petition the state Supreme Court to close down their premises.
Prior to this, the punishment for possessing or selling more than three ounces of marijuana was a mere $125 fine. Notices of violation were posted on the storefronts of the shops involved, indicating their illegal activities.
The crackdown comes in response to criticism of the slow and problematic launch of New York's legal cannabis program, which has allowed a flourishing black market. Mayor Eric Adams and City Sheriff Anthony Miranda estimate that there are least at 1,500 unlicensed marijuana stores in the city.
Governor Hochul emphasized that enforcement is crucial to support the individuals who were promised an opportunity to establish legal businesses and succeed.
Advertisement
"These enforcement actions are critical steps to protect and help those individuals who were promised a shot to start a legal business and be successful" said Hochul in a press release.
Time will tell. The actions might have come a little bit too late for the few independent shops that opened first.  With little more than a dozen licensed retailers currently operating state-wide, and a state weed surplus approaching three-quarters of a billion dollars, something has to give.  And that seems to be the state's "promise" to get the independent stores up and running before the multi-state operators (MSOs) swoop in with big money.
The OCM is now expected to eliminate a three-year waiting period for the state's 10 vertically integrated medical marijuana providers to enter the recreational market, said a report in MJBizDaily on June 1st.
SPONSORED VIDEO
Cannaconvo with Peter Su of Green Check Verified
Cannabis Last Week with Jon Purow interviews Peter Su of Green Check Verified. Peter Su is a Senior Vice President with Green Check Verified, the top cannabis banking compliance software/consultancy in the space. A 20+ year veteran of the banking industry, Peter serves on the Banking & Financial Services committee of the National Cannabis Industry Association. He chairs the Banking and Financial Services Committee for the NYCCIA & HVCIA. He is an official member of the Rolling Stone Cannabis Culture Council. And, he is on the board of the Asian Cannabis Roundtable, serving as treasurer.