GILBERT MILAM, JR., a.k.a. Berner, is a hip-hop star, cannabis icon, cancer survivor and the co-founder and CEO of Cookies. Berner's ascent to the top of the cannabis world came in tandem with his star rising in the world of hip-hop, where he started as a battle rapper and mixtape artist. He founded his own label, Bern One Entertainment, at 23. Berner signed with Wiz Khalifa's Taylor Gang Entertainment in 2012, kicking out jams like "20 Joints" and "Wax Room," while releasing 19 solo records to date and additional collaboration albums in the dozens.
Meanwhile, Berner was pursuing a parallel hustle—running a cannabis social club and eventually serving as the front man for "Girl Scout Cookies." That potent, tasty, OG Kush-derived hybrid strain was perfected by Jai "Jigga" Chang in a garage in San Francisco's Sunset District in the mid-2000s. Many years later, Berner and Jigga remain partners at Cookies, the SF-based company they founded in 2010. Jigga continues to develop kick-ass weed and Berner is now the face of perhaps the most recognizable and valuable cannabis brand on the planet.
Berner didn't just helicopter into his role as weed's premier impresario. He's worked in the service and retail trenches as a bartender and a budtender. He dealt dope in the legacy market before pioneering the branding of legal cannabis products with Cookies.
In one of our best Global Cannabis Times interviews ever, GCT co-founding partner and FlowerHire CEO David Belsky sat down for a wide-ranging conversation with Berner. Check out some of the best excerpts of that discussion over the next several pages and be sure to catch the full interview at GCTMag.com.
This interview has been edited for length and clarity.
About the interviewer: David Belsky is a founding partner of Global Cannabis Times and the CEO of FlowerHire, a leading cannabis recruitment and staffing service which is developing strong, efficient organizational strategies for rapidly growing cannabis companies.
---
DAVID BELSKY: We're excited today to discuss some of the strategy behind the Cookies cannabis empire and get insights into the global cannabis industry from the visionary entrepreneur behind this successful brand. Thanks for joining us today, Berner!
BERNER: Right on for having me on, man. Good times to be alive.
Hey, surviving is thriving. Can you tell me the story of how Cookies actually got started?
You know, it's real grassroots, organic, like a lot of stories. Founded in a garage by my good friend and partner Jai, a.k.a. Jigga. It was just breeding, good genetics and bringing it to me and me having kind of like a megaphone and just a good Rolodex to go hype those genetics. And people naturally gravitated to them and talked about them and spread the word about them through music and within entertainment circles. And I saw a lot of friends in high places and I was also working at a dispensary that was pretty popping at the time in NorCal. So we just did it organically and naturally just kind of popped it off.
You grew up in San Francisco. How did that influence your relationship with cannabis and with music?
I grew up in San Francisco until around sixth grade. I had to move to Arizona with my mom. We were supposed to move my father's restaurant over there. And when I got there, I wasn't quite smoking just yet in sixth grade, you know? But I smoked bud for the first time in Arizona. And when I went to go back to visit San Francisco, that's when I fell in love with Cali bud. I saw the difference, you know?
My boys back in Arizona were getting ounces for 20 bucks, just Mexican brick weed. Around Christmas time, we'd get something called Christmas Chronic. And it was less seedy and it was green. But when I went to go visit my dad back in California and it was seventh, eighth-grade-ish, I saw Cali bud and been in love ever since.
And as for music, you know, the San Francisco Bay Area's always had an incredible independent music scene from E-40 to Mac Dre to San Quinn to JT the Bigga Figga and Rappin' 4-Tay, the list goes on. I just knew my love for the bud and the culture in the Bay was missed when I was in Arizona and I did whatever I had to do to make my way back to the Bay.
You've been able to leverage the synergies between the hip-hop world and the cannabis world better than maybe anyone. Why do you think many other celebrity brands have failed to gain traction?
I say this with all due respect, like not to shit on anyone else, but my shit's just real, man. I love herb. I live and breathe herb. Everything in my life revolves around herb. I've been doing it for over 20 years legally. And before that, I was doing what I was doing and it's all been documented. I think that people actually know that we focus on this 100 percent.
Not only that, we're bringing real flavor to the game. The kind of strains that we bring to the table are legacy strains. They're staples. They've changed whole industries. They've been a part of a lot of menus coming out from other breeders and other companies.
I think that the reason why our shit hits a little different is, one, it's real. Two, we take the time and put the energy and passion behind it. And three, we never gave up. A lot of people get in the game, celebrity-wise, and think they're gonna make a bunch of money and create a moment just by printing logos on t-shirts and getting a nice bag. But Cookies is 20 years in the making, right here. I think the authenticity and just people actually identifying with the story of how we built Cookies, seeing that shit hands-on and in real time, I think people really appreciated it.
You're a serial entrepreneur at this point and an artist. How do you balance the time between your artistic career and your business career with Cookies?
Yesterday was like the perfect example. 'Cuz I do trip myself out sometimes. Yesterday I came to this building I'm at right now. I came here at 9am, woke up at 5am, handled all my emails for Cookies, Cookies SF and the other businesses, the Social Club, you know, we're trying to pop that off right now, Vibes [premium rolling papers].
And then when I got here from 9 until 6:30pm, we just worked on design, design, design, design. Yesterday was a design day, right? I had one of my favorite designers here. We worked in-person from 9am until 6:30pm. We got a bunch of work done. At 6:30pm, my wife picks me up. I go to my daughter's basketball game, watch her game, turn the phone completely off. Go home, have dinner, phone completely off. In bed by 9:30 and phone back on, answering emails and working, working, working until I pass out.
So it's a balance, you know. Some days I'll take a day completely off, but there really is never a day off. I guess the balance is just, listen to your body. But I work from the moment I open my eyes to the moment I close them. It's not really work if you love what you do. I love what I do. And I think it's really cool to work hands-on with people.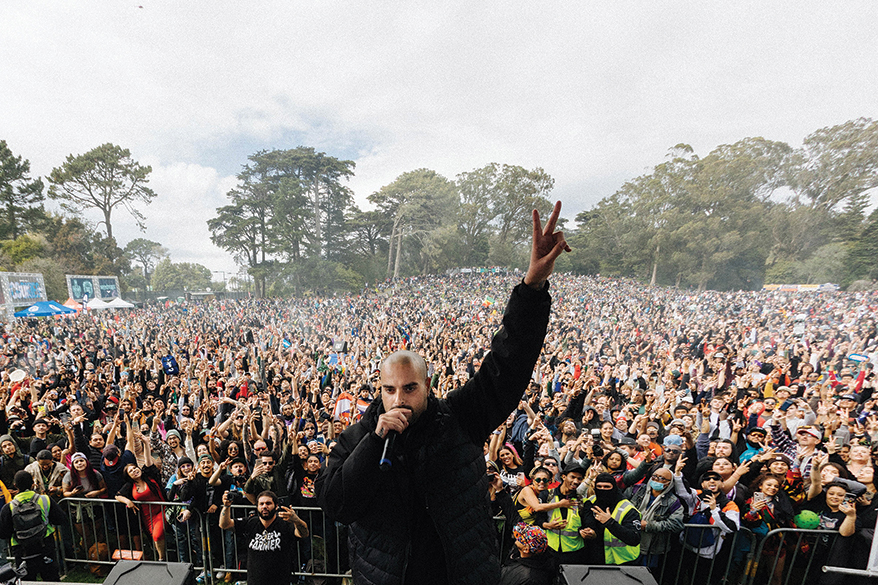 Let's get into the business side of it. From our vantage point, you've taken a very flexible approach to expanding your cannabis business compared to what some other licensed operators do. You operate and own your own stores. But you've also licensed the Cookies retail brand to other retail license holders. You recently partnered on creating a very unique retail brand, Berner's by Good Day Farm out in Arkansas. You're also wholesaling Cookies CPGs [consumer packaged goods] to other retailers. You're launching in other product categories, even expanding around the world.
Was this always the plan? Or have you just adapted to the best possible situations within the regulatory framework for cannabis and seized opportunities for partnerships and expansion of your brand as they came along?
It was always the plan, business strategy-wise. We didn't have a bunch of capital. We always wanted to use the leverage of the brand. And honestly, it goes back to like, uniting, right? I know that throughout the cannabis industry, there's good operators and good growers all around the world. I would rather empower those people who already have things dialed in for certain markets, partner with them and make sure that we're moving faster and more efficiently than if we had to build from the ground up.
Raising a bunch of money in the beginning and diluting down my ownership was never really an option for me. I'd rather look at each market, see who's doing what and find the best-in-class operators and cultivators to work with.
When you're looking for business partners, what do you look for?
We have 52 branded retail stores in five countries now. I think in every market, we need cultivation. We need retail. There are only one or two markets right now that require you to be fully integrated, like Florida. We had to buy the license and build our own cultivation and get our own stores in Florida, which is cool.
But what do I look for in operators we want to partner with [in markets where you don't have to be completely vertically integrated]? If it comes to the cultivation side, we want to know, what are you growing currently? What's your bud look like without us? What kind of menu do you have? What's your reputation in the market you're in? What's your experience? What's your vibe? What are your SOPs? Are you whole plant hanging? Are you hand trimming? Are you doing all the things that kind of checks our boxes?
Then we do some QC on their product. We fly in, check out their bud, smoke it, make sure it's good prior to us even working with them. And if they check all those boxes, then we start going down the list—are we aligned on business, on the deal we're about to structure? And if we are, then we do some test runs with them until the quality gets dialed in. And once the quality is dialed in, then we purchase. That's a very important part of our partnership, because if they can't dial in the quality of our flower, then we turn it down. It's very hard for cultivators to hear that they're getting the batch turned down.
Let's circle back to you, personally. You've been very open about your recent battle with colon cancer. Has that experience made you slow down and reassess? Or has it made you speed up and go faster?
I wish it would've slowed me down. It sped everything up. You start looking at life like a clock. When you battle cancer, they give you this five-year projection. Like, X amount of people make it past five years and X amount of people make it past 10 years. You start looking at life through this whole different lens.
My eyes have been opened to this clock. And hopefully that clock is on my side, but if it's not, I sped things up and I've just been working hella hard. Which is funny, 'cuz I've been working hella hard this whole time. But like, now it's in overdrive. I just tell people there's no time, there's no time to waste. So yesterday, I spent my whole day with design.
Today, I'm spending my whole day with product engineers to come up with proprietary accessories.
I just schedule out each day for things that I have to get done. Before, I'd kind of be like freelancing the schedule, but now everything's buttoned up. Every day I gotta be knocking down something. It sped my shit up big time.
Berner, thanks for sharing the time with us today.
I appreciate you guys telling the story. Our goal is to stick around.
COOKIES FACT FILE
FOUNDED: 2010
IPO STATUS: Private
HEADQUARTERS: San Francisco, CA
KEY PEOPLE: Co-founder & CEO Gilbert "Berner" Milam, Jr., President Parker Berling, Co-founder and Head of Genetics Jai "Jigga" Chang
BUSINESS MODEL: Licensed retail network whose licensees are provided with the brand standards and products needed to execute Berner's visions for Cookies and Lemonnade
KEY BRANDS: Cookies, Lemonnade, Collins Ave., Minntz, Grandiflora, Run The Jewels, Powerzzzup
PRODUCTS: More than 70 proprietary cannabis cultivars and more than 2,000 cannabinoid (CBD, Delta 8, HHC, THC-0) products across categories including flower, blunts, hemp smokes, pre-rolls, vape products, edibles, concentrates, tinctures and mushroom caps, as well as accessories, clothing and apparel, and more.
BRANDED RETAIL STORES: 52 branded retail stores across five total countries (United States, Canada, Israel, Netherlands, Spain) and across 12 U.S. states (Arkansas, California, Colorado, Florida, Massachusetts, Michigan, Missouri, Montana, Nevada, Oklahoma, Oregon, Washington)
GCPP* RANK (8.16.22): N/R
WEBSITE: Cookies.co
SPONSORED VIDEO
Cannaconvo with Peter Su of Green Check Verified
Cannabis Last Week with Jon Purow interviews Peter Su of Green Check Verified. Peter Su is a Senior Vice President with Green Check Verified, the top cannabis banking compliance software/consultancy in the space. A 20+ year veteran of the banking industry, Peter serves on the Banking & Financial Services committee of the National Cannabis Industry Association. He chairs the Banking and Financial Services Committee for the NYCCIA & HVCIA. He is an official member of the Rolling Stone Cannabis Culture Council. And, he is on the board of the Asian Cannabis Roundtable, serving as treasurer.