Brittney Griner to Stay in Custody on Russian Cannabis Charge
Judge extends by another month wrongful detention of Phoenix Mercury basketball star.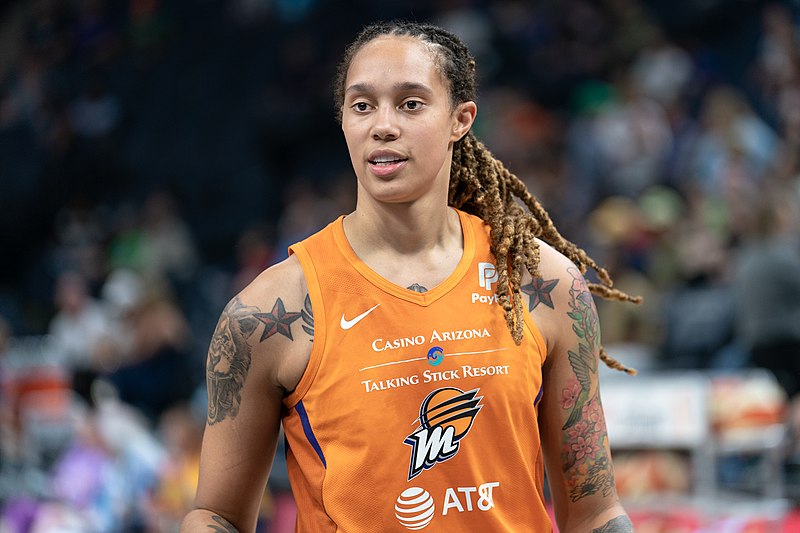 Russia-detained WNBA basketball star Brittney Griner was seen handcuffed and hooded in an orange jacket as she appeared in court outside Moscow on Friday. At the hearing, a Russian judge ruled Griner's detention could be extended by another month until June 18, the second such extension. In March, Russia had lengthened the two-time Olympic gold medalist's pretrial detention to May 19.
Griner, 31, was arrested at Moscow's Sheremetyevo International Airport in February, accused of smuggling a narcotic into Russia. According to Russian Customs officials, Griner was allegedly carrying cannabis-oil vapes in her luggage of a "significant amount."  The use of cannabis for either recreational or medicinal purposes is forbidden in Russia. The possession of up to 6 grams of cannabis is an administrative offense, punishable by a fine or detention of 15 days.
Griner has been in Russian custody for 85 days as of Friday.
If Griner was, in fact, carrying a large amount of cannabis oil, the narcotics charge could be punishable by up to ten years in prison — per ABC News, though, there has been no official verification of this by U.S. or Russian government agencies.
A U.S. Embassy official was able to speak with Griner during her hearing, according to State Department spokesperson Ned Price. "The officer was able to confirm that Brittney Griner is doing as well as can be expected under what can only be described as exceedingly difficult circumstances," Price said.
Russian officials describe Griner's case as purely a criminal offense. But Moscow's war in Ukraine swiftly focused Griner's arrest in the political spotlight. Griner's vocal supporters, including WNBA, worry she could be used as a political pawn in times of heightened U.S./Russian tensions.
Advertisement
Case handed to special presidential envoy
The U.S. State Department now classifies Griner's status as that of a wrongful detainee. The status change places her case under the purview of the department's Special Presidential Envoy for Hostage Affairs, which is responsible for negotiating for the release of hostages and Americans considered wrongfully detained..
"Regardless of Russian legal proceedings, Brittney Griner has been officially designated as Wrongfully Detained by the U.S. Government and has been held now for 85 days," Griner's agent, Lindsay Colas, said Friday. "As such — and out of respect for the sanctity of sport and to support the confidence of all athletes traveling abroad to compete — we expect the White House to use all options to bring her home immediately and safely."
SPONSORED VIDEO
Cannaconvo with Peter Su of Green Check Verified
Cannabis Last Week with Jon Purow interviews Peter Su of Green Check Verified. Peter Su is a Senior Vice President with Green Check Verified, the top cannabis banking compliance software/consultancy in the space. A 20+ year veteran of the banking industry, Peter serves on the Banking & Financial Services committee of the National Cannabis Industry Association. He chairs the Banking and Financial Services Committee for the NYCCIA & HVCIA. He is an official member of the Rolling Stone Cannabis Culture Council. And, he is on the board of the Asian Cannabis Roundtable, serving as treasurer.